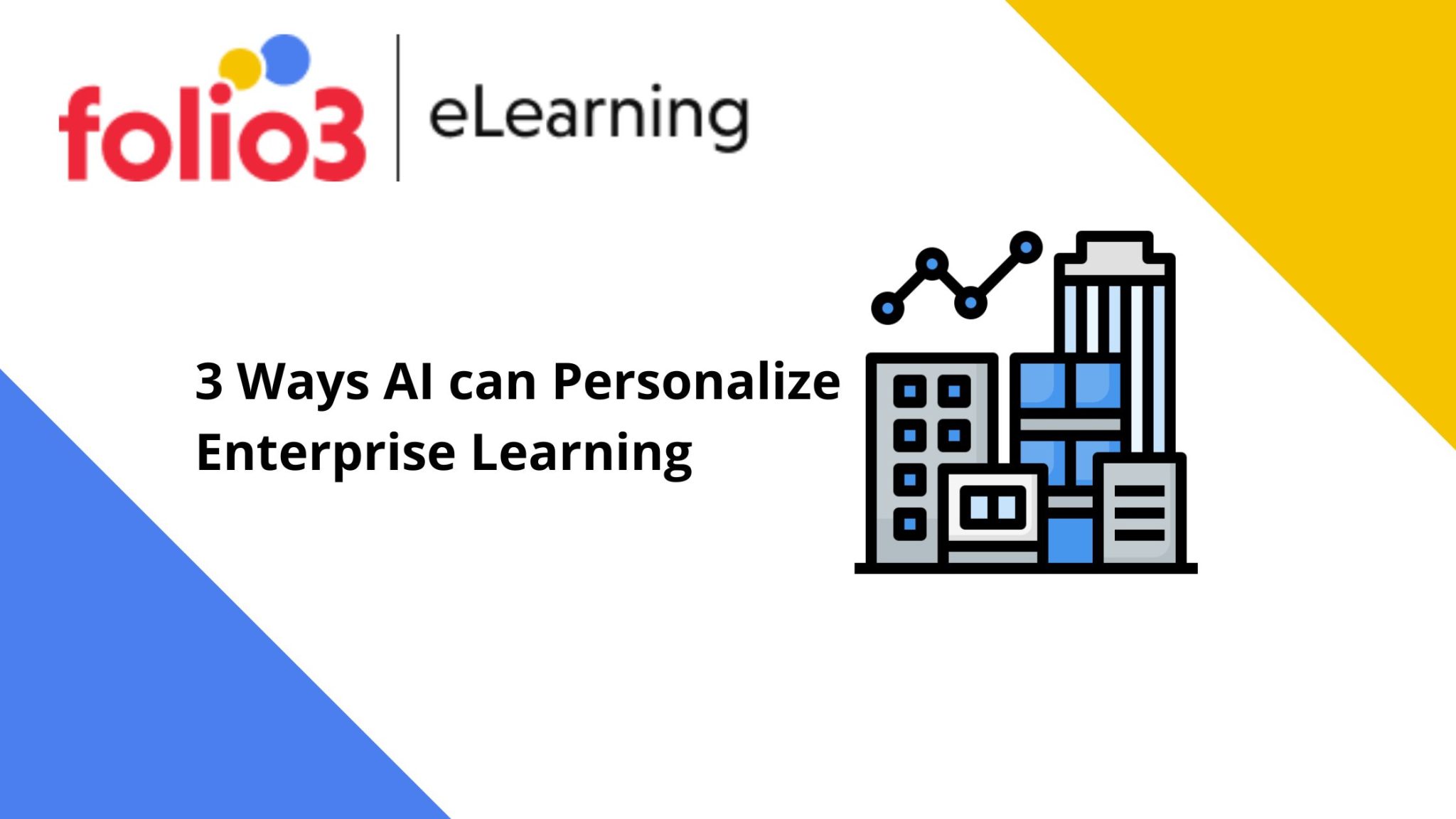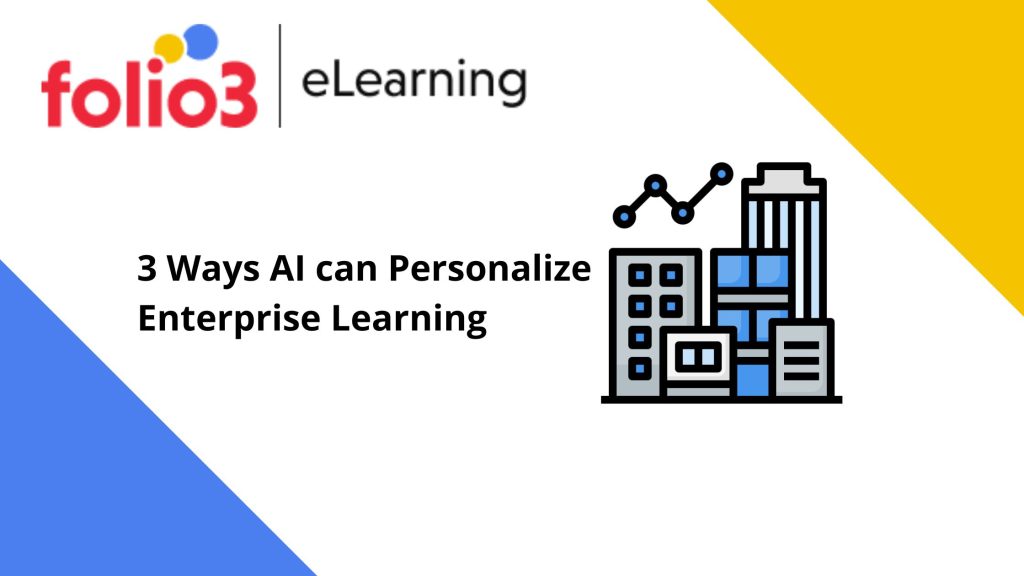 Executive Summary
You never get a second chance to make a first impression on new hires. Instead of boring them with one-size-fits-all training, switch to AI and eLearning to personalize your onboarding programs and make them rewarding. Read on to find out the secrets to personalized enterprise learning.

Overview
Believe it or not: the one-size-fits-all training approach is long dead.
Every employee in your company has a special set of skills and unique learning preferences.
So, more than a single approach to training all employees together is needed to help them find solutions to their problems and achieve their personal or professional goals.
That's why there's a strong need to embrace personalization in enterprise learning.
Instead of using a one-size-fits-all mantra for training employees, you can switch to AI and eLearning technologies to create personalized experiences.
With eLearning, you can shift to online training to make it self-paced, whereas AI can give you tools to create personalized learning resources for each trainee.
Both technologies can empower you to cater to the needs of each employee's preferences and learning style. Without AI and machine learning, it would be impossible to accommodate the needs of a diverse workforce.
But how does AI make eLearning personalized? And more importantly, how can your business benefit from it?
Let's zoom in on three revolutionary ways AI makes eLearning personalized and how this personalization can take your corporate training to the next level.
1. AI offers recommendation and knowledge curation
Whenever we have something we don't understand or don't know, we are accustomed to looking to search engines and social media to get the answers we seek.
This search for a wealth of information is a breeze but comes with the danger of content overload, which makes us unable to segregate what's useful and what's just so much noise.
AI plays a crucial role in helping to fix this problem by auto-curating information. When it comes to eLearning, AI filters information through recommendations and knowledge curation.
On a basic level, a recommendation system can provide recommendations such as related reading or further learning.
These recommendations are based on the information a user gives when they first log in. Typically, learners choose their preferences via a drop-down list of topics and later through free text entry.
The system becomes more sophisticated as it watches learner behavior, tracks their actions, and infers interests, biases, and goals.
AI-based eLearning solutions have the ability to adapt to a learner's level of knowledge, interests, and goals to create highly personalized learning experiences. This personalization drives repeat engagement and loyalty among employees over time.
Repeat interactions provide the system with more data which can help you design ever-more relevant experiences for your workforce. 
2. Learnbots provide constant support
We bet you have at least once interacted with AI virtual assistants that operate as chatbots online.
Because chatbots are user-friendly and provide non-stop support to businesses, companies are keen to use them.
Using AI chatbots helps companies automate many business operations such as marketing, sales, customer support, and many more.
One of the interesting uses of chatbots is in corporate learning, especially during the onboarding process, where they serve as the first point of contact and guide new employees through the training process.
Chatbots also offer assistance to help new hires learn as they work. Through a Q&A interaction with an employee, bots address their personal learning needs.
Just like chatbots, there are learn both that provide virtual assistance, but they are focused on automating enterprise learning. 
Learnbots can, for example, track a learner's history, compare it against their current learning needs, provide interventions they need, and even suggest ways to improve their skills or knowledge level.
Learnbots can integrate with your learning management systems (LMS) or learning experience platforms (LXPs).
An LXP is a next-gen employee training solution within the corporate learning stack. The key job of LXP is to build and maintain employee engagement. Paired with learnbots, using LXPs is now fast becoming a standard practice.
Additionally, learnbots can also connect with popular communication platforms such as Slack or Microsoft Teams to make learning accessible in the context of daily work.
They can offer valuable services to learners as intermediary agents by responding to their performance and development issues in real time. 
With learnbots, your organization can save overhead and time-sink of providing training that not everyone needs.
Bots can also help you provide constant support to employees and prevent training from becoming a one-off event which leads to information overload.
3. Analytics delivers rich data.

The data gathered from user behavior helps bots respond immediately to an individual query.
This data can also be garnered, combined with data from other learners in other parts of the organization, and transformed into rich analytics.
You can bring together data from across your organization in data lakes and apply on them the analysis techniques that use AI technology.
Techniques such as predictive analytics can help in many ways, including determining new areas of need, opportunities for skill development, and identifying employees who are likely to churn.
In addition, learning experience platforms or LXPs, (which are an enhanced version of LMS) come with an option of integrating with a learning record store (LRS).
The LRS combines reporting and analytics features that provide detailed, data-driven tracking and reporting on individual learners.
It records a learner's scores or completion of tasks and uses Experience API (xAPI) to record a wide range of experiences learners have with online and offline training.
This data is accumulated at a granular level and helps evaluate learner satisfaction and learning impact.
You can develop meaningful and effective custom eLearning development programs based on this verifiable data.
Such customized programs can successfully fill the skill gaps learners deal with and equip them with the knowledge that boosts productivity.
5 Benefits of Personalizing Learning with AI
1. Improves engagement and outcomes
When developing training for the entire organization, it can be tempting to try a one-size-fits-all approach.
However, businesses that use this approach don't appeal to learners individually and find learners dropping out of training.
77% of L&D professionals believe personalized enterprise learning is key to keeping employees hooked during training.
Personalized learning content can help you bump up employee engagement.
In modern training solutions, AI brings this concept of personalization to life.
AI powers machine learning algorithms to analyze a learner's past performance, predict future outcomes, and generate tailored content recommendations to achieve those results.
For example, machine learning algorithms identify their needs when employees express a particular skill gap during learning and generate targeted recommendations to seal that gap. 
These recommendations help employees build related knowledge and address the gap in a personalized way.
2. Allocates resources to tasks that matter
Employees have as little as 1% of their working hours to devote to professional development, which is about 5 minutes per day in a normal work routine.
This means you- as an L&D team- must make every learning moment worthwhile. 
AI is becoming a phenomenal part of eLearning because it helps deliver learning resources that learners crave and need most.
Instead of experimenting with a bunch of different ideas to see what works, AI generates tailored information that allows you to provide actionable knowledge to learners.
When the information is relevant and actionable, employees can quickly grasp it at the point of action and immediately apply it.
Another benefit of this level of personalization in eLearning is that your admins and support teams don't have to spend too much time analyzing reports. 
Instead, they can focus more on producing top-notch content while AI takes care of your big data and reporting.
It frees up time for your L&D team to spend on more valuable tasks.
3. Automates content scheduling and delivery
AI saves time.
Whether humans or AI tools generate your content, AI-powered LMS gives you the tools to schedule content to auto-publish at the best time, track performance, and deliver coursework based on learners' assessment results. 
Besides taking over these tasks, artificial intelligence can automatically generate learning course maps for each new learner that enrolls in the course.
During the ongoing learning, AI continues to play a crucial part and help readjust the areas that need review.
4. Boosts ROI
Here's the simple formula to explain this:
Reduced training time + increased personalization = desired to-learn outcomes
Online learning platforms paired with AI allow you to create bite-sized and highly personalized learning experiences for employees.
In other words, eLearning helps you reduce training time but deliver powerful content.
In addition, eLearning provides analytics that can track and predict every move your learners make and give you the power to deliver training resources just-in-time when the learners need them.
So, you can strike while the iron is hot and learn what your employees are struggling with.
By predicting their needs, you can immediately provide relevant content and help them overcome challenges, resulting in better outcomes.
Providing relevant content also means keeping employees on top of trends and industry knowledge, which is critical to the growth of your organization.
According to surveys compiled from over 25,000 US companies, organizations implementing eLearning training programs see a whopping 42% increase in their income. 
These companies keep their employees on top of trends and constantly supply industry knowledge.
Your company can boost ROI with AI and eLearning by keeping training short, relevant, and personalized.
5. Truly Responsive System
AI combines data-collecting machines and technologies that breathe life into personalized learning. It collects data about learners and truly responds to their learning needs.
With the power of AI, you can benefit from a system that is intelligent and adaptive to learners' requests and gives them control over their learning.
As an admin, the system also allows you to automate repetitive tasks such as LMS enrollment, content categorization, and personalized responses to learner queries.
By automating these tasks, AI promptly responds to learners and saves time.  
The Bottom Line
AI combines algorithms, predictions, and analytics to create personalized learning experiences.
These personalized experiences engage employees in training, constantly supply them with the knowledge they need to overcome workplace challenges, and give them opportunities to learn and evolve at their pace.
These factors contribute to employee productivity and job satisfaction, which reduce turnover and drive business growth.
In short, with AI embedded in your custom eLearning development platform, you can take a back seat and let AI handle your workforce learning needs and make them future-ready.