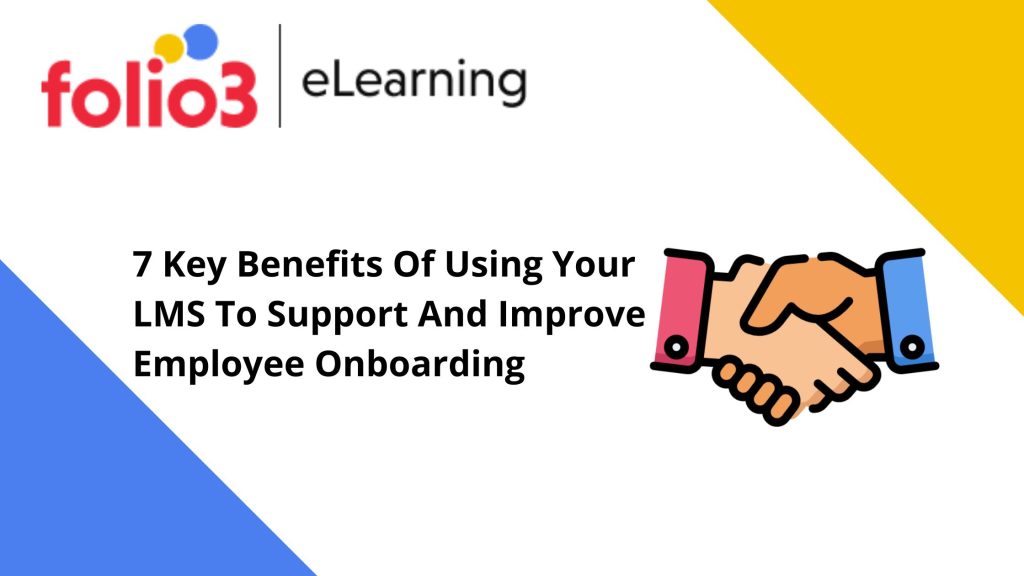 eLearning is a thriving sector that has moved from being a phrase that is frequently used in educational institutions to being employed in many corporate settings, where it is used to increase productivity and elevate employee status through training. Following benefits onboarding, LMS, and employee training is an essential initial step.

Executive Summary
In this article, we're just going to give seven straightforward benefits of using a custom corporate LMS to develop an onboarding program for your employees—not just an orientation, but LMS onboarding that accepts staff to their new roles helps prepare them for success in those roles and ultimately aids in the achievement of your organization's goals.
7 Key Benefits Of Using Custom Corporate LMS To Improve Employee Onboarding
.) Increased Employee Performance
Organizations can now choose to rely on all-in-one LMS onboarding platforms for virtual-automated training and coaching rather than hiring instructors or trainers to train personnel regularly. Small or large groups of employees can receive training through a custom corporate LMS platform for businesses. It makes courses and training programs easily accessible and enables organizations to, if necessary, disseminate content to particular employees.
.) Trackable
Using an LMS, you can also keep tabs on, track, and report on each new hire's progress. This enables you to assess each person's aptitude and expertise for a given work, identify anyone who may want more assistance or specialized training, and automatically assign next-stage training pathways and certificates.
Additionally, tracking provides a reliable audit record for governance and compliance, should those things be required. No need for clumsy spreadsheets or manual verification.
.) Reduced Training Expenses
Using LMS onboarding systems designed for businesses to conduct training online would assist in reducing various expenditures and expenses that would otherwise be incurred. Examples include providing staff with physical access to training materials, travel expenses, distribution expenses, etc.
Organizations can outperform the conventional approach regarding return on investment from benefits onboarding by adopting an LMS. Every new hire who registers for and wraps up the training program guarantees a greater ROI that should be advantageous to the company over the long term.
.) Asynchronous
With all the necessary information and clear instructions, your new hires may learn at their own pace while still carrying out their duties and engaging with clients when the onboarding process is managed through your LMS. This provides your employees with the freedom to study at their own pace.
Using a custom corporate LMS enhances an employee's ability to tackle client problems. Employees can benefit from various video evaluation courses and demonstrations to improve customer service and support.
An LMS lets staff members give appropriate, in-depth answers to clients' questions while lowering the likelihood of errors. They will be able to practice well and work harder if they get the chance to train frequently, with all the benefits of onboarding.
.) Tailored Learning Paths
All new employees receive up-to-date training since your LMS makes it simple to update manuals and courses. And your custom corporate LMS enables you to group courses to form distinct learning paths (defined, for example, by role); your onboarding process will suddenly become highly customized, providing the appropriate training to the right student.
An LMS that enables you to design customized learning experiences and routes for the various jobs in your organization is a valuable tool for making the employee onboarding process more interesting for each learner. And when automated, a procedure that is considerably more streamlined for your administrative employees. This nicely sets up my next LMS automation point.
.) Reduced Resource Costs
One major benefit of onboarding LMS is a reduced significant amount of expenses that would otherwise be associated with building a physical space for staff training in the workplace. A bigger global audience can now access training and educational materials thanks to enterprise/corporate LMS distribution. The created learning materials can also be repeatedly repurposed in accordance with the organization's requirements.
.) Social Learning Techniques
It is now simpler for organizations to include numerous social media networks in their online training initiatives thanks to employee training on LMS systems. On the online LMS platform, learners and instructors could advertise social media links, resources, etc., to encourage peer collaboration.
Final Thoughts!
More and more companies are seeing the advantages of adopting a learning management system to handle employee onboarding in today's "work from home" climate.
It takes time and resources to develop an LMS onboarding strategy pertinent to your new hires, whether online or off. This is especially difficult when hundreds of new employees join various teams throughout the company, frequently at different times.
When you choose an LMS with the appropriate features, you can expedite a substantial portion of your onboarding procedures while also making it fun for new hires and assisting them in acquiring the abilities, information, and attitudes necessary for success. In short, you will be able you reap the maximum benefits of onboarding from a custom corporate LMS program.