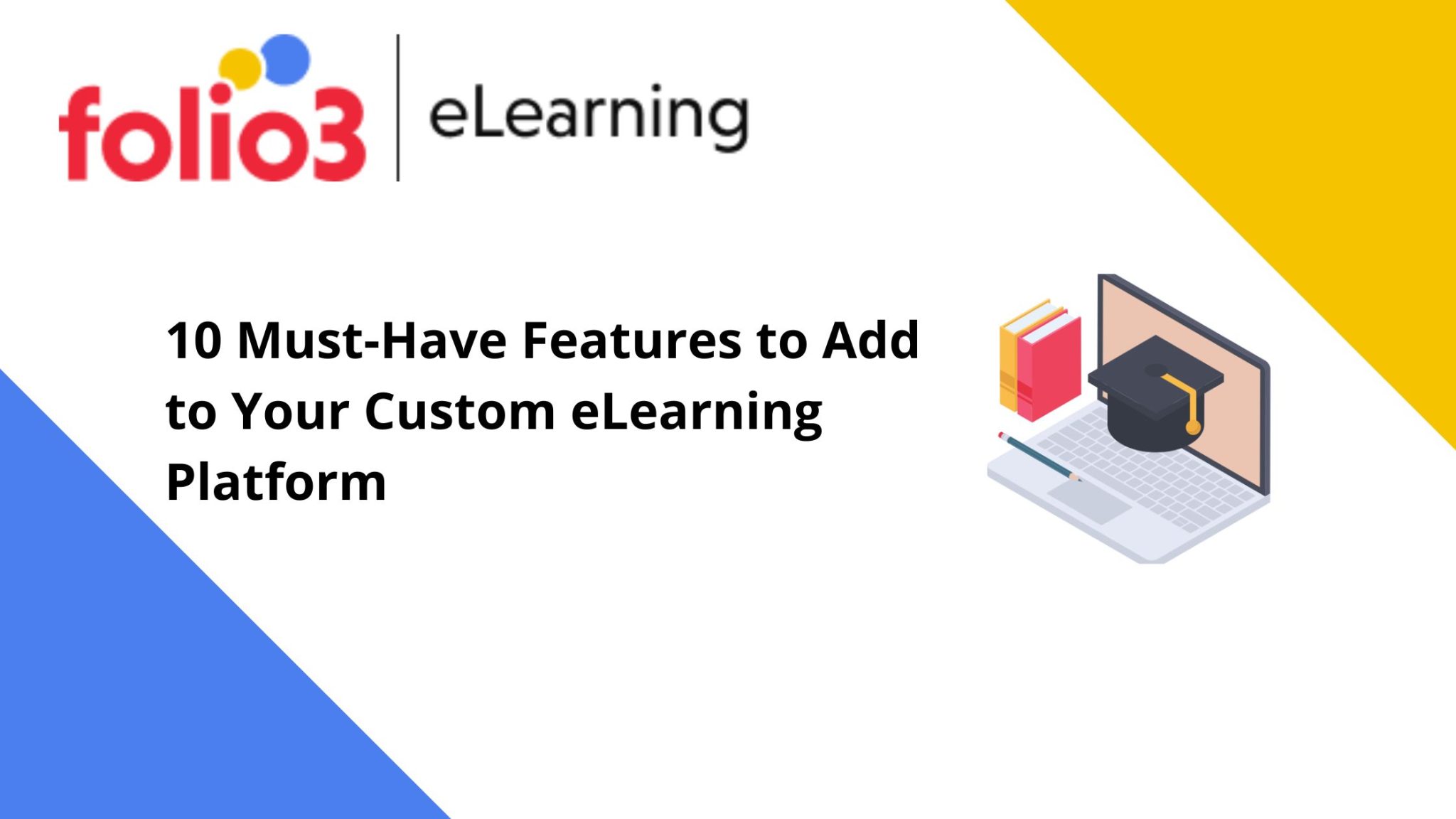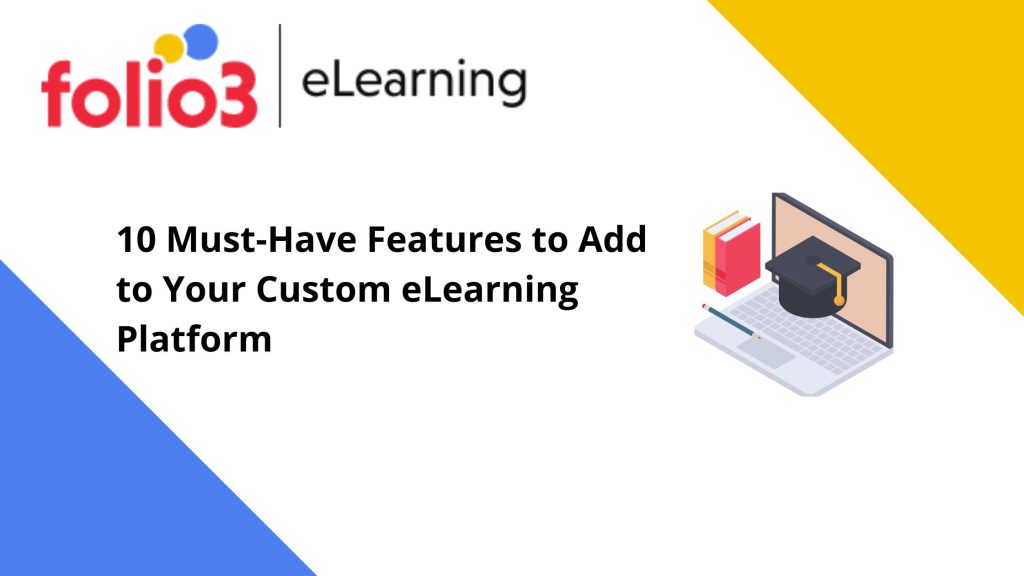 Executive Summary
eLearning has experienced tremendous growth over the past decade. Capitalizing on this growth, companies should craft game-changing custom eLearning platforms. Companies should leverage these top 10 features when designing a customized eLearning platform to make e-learning more engaging, interactive, and results-driven.

10 Must-Have Features for Customized eLearning Platforms
1. User-friendly and Intuitive Interface
Imagine finding a gaming interface exciting at first. However, shortly after, you give up because of how complex it is to navigate the interface and understand the instructions.
This happens when developers overlook the design of the interface. The same goes for eLearning.
When the interface of an eLearning platform is not exciting or easy to use, users are most likely to give up on it in two attempts. If that's the case, you, as a developer, have very few chances to hook the user in before they quit.
So, how do you make sure your interface is user-friendly?
Here are a few things to keep in mind when designing a user-friendly interface:
Make sure the interface is easy to use and visually appealing
Your interface should support multi-device access and have a responsive design
Minimize the loading speed
Keep the interface straightforward and simplify navigation.
2. Synchronization with External APIs
Before discussing why APIs need to synchronize with eLearning platforms, let's first understand what APIs are.
APIs (application programming interfaces) are a set of definitions or protocols that facilitate communication between applications and allow them to share information.
In other words, APIs work like bridges to connect different applications. They provide add-on functions to an application by integrating it with another application.
Regarding eLearning platforms, APIs can be used to extend their features by integrating them with other application software.
To understand the use of APIs better, let's take an example:
You may want to add many useful features like gamification, payment gateway, and content management system to your eLearning platform and want to do it quickly and efficiently.
So, instead of writing code from scratch to develop in-built features, you can just use APIs that offer the functionality you want and connect them with your platform.
Here are some APIs you can use for eLearning platforms:
3. Analytics, Reporting, and Certification
Once you have designed an online course and put it on the eLearning platform, how do you know if learners are not wasting time and actively engaging with the course?
It is simple- keep track of how they perform on the courses.
You can track learner progress by adding analytics and reporting features to your eLearning platform. Analytics and reporting provide you with comprehensive learner insight and can help track important metrics like:
Enrollment dates
Course completion
Time is taken to complete the course.
Quiz scores
Certifications & more
Based on this data, instructors can monitor course progress, create report cards, offer course completion badges, and award learners certification on course completion.
4. Personalized Learning Path
If you are a learner, would you read 1 to 10 chapters of a book in a sequence? Or would you much rather start with the most interesting chapter and then move on to the boring ones?
Learners do this all the time.
That's why creating a personalized learning path is essential. It helps meet user needs and ensures a high engagement rate.
A learning plan offers immense value for students and professionals alike- to develop the skills they need for their career growth. Whether your goal is to help learners gain a skill or expertise in a particular area or the ability to do an unfamiliar task, a learning plan can help you conceptualize, bend on, and achieve that goal.
But how do you design a learning plan?
Start with identifying the learning goal. To figure out the goal of your eLearning program, first, think of the skills learners need to learn or the knowledge you want to impart. Based on that objective, decide on the best methods to teach the skills.
You might decide to help them learn the skills by providing reading materials or taking online classes. In addition to that, you can also consider various programs, certifications, videos, and other materials you can create to teach the skill more effectively or supplement their learning.
5. An Online Course Catalog
The online course catalog serves as a one-stop shop for learners. It provides a detailed account of all courses, including what each module covers, instructors for each module, and even the future career path courses offer.
Instead of redirecting learners to 10 pages to search for a course, the course catalog provides everything on a single page. This allows learners to review the pros and cons of taking a course and determine whether they should sign up for it right in the same place.
When designing an online course catalog, ensure it is easy to navigate and provides simple and easy-to-understand information.
6. Collaborative and Social Learning Tools
If you are a teacher or an instructor, you may have noticed every time you assign a project; learners ask you whether they can do it in groups.
Research indicates that effective learning hinges on collaboration and strong team cohesion.
So, why not add those group assignments to your eLearning platform to make it more collaborative?
The collaboration will help you develop a culture of social communication and make your platform more interactive.
Your learners want a platform that integrates social tools to encourage peer-to-peer interaction. Adding a social element to the platform will increase your program's engagement and popularity.
To encourage collaboration on your platform, you can leverage a range of social and collaborative features such as:
Groups to encourage team building.
Discussion boards stimulate social connections and facilitate conversations.
Collaboration tools like Microsoft Teams or Slack for direct messaging and communication on the apps they use already
Instant notifications to notify learners of new courses, completion dates, certification expiration, group messages, and more
Polls and surveys to allow learners to be heard
Rewards such as positive feedback and course completion certification to help learners feel valued and showcase their accomplishments
Adding these features will contribute to two main goals: engaging learners and promoting social interactions on your eLearning platform.
7. Responsive Design Elements
An eLearning platform with a responsive design makes a difference.
Responsive design means the platform is designed to be compatible with any device, like mobile, tablets, and monitors of various sizes and resolutions.
When the design is responsive, users do not need to zoom in or out to see a particular element. Irrespective of screen size, the platform looks good.
Another factor that counts when crafting a responsive design is the loading speed- the time it takes your eLearning platform to load.
Loading speed directly influences the user experience. If your platform is easily accessible during a certain time of the day but loads slowly during other hours, it is likely to frustrate your users.
This shows the website has a poor response rate. However, your goal should be to create a website that is always responsive. This means you must ensure your platform has a swift loading speed and is compatible with all devices so that users have a great experience navigating your platform.
8. eCommerce Support
Learners prefer eLearning over traditional learning methods because they do not have to buy ten different books to go through them.
Instead, they can access it all on the same platform.
On your eLearning platform, you can put links to various learning resources and save trainees and students from hours of research. In fact, you can create your supplementary resources and sell them.
If you are interested in creating workbooks or worksheets for your eLearning platform but not sure how to market them, consider using eCommerce. By partnering up with an eCommerce business, you can integrate your platform with their shop, which can help you market your products.
Once you have partnered up with a business, you must add the links to products at appropriate intervals on your platform to redirect learners to the shop and purchase the products.
9. Gamification
Learners tend to be more energized when they are motivated. Being energized makes them more focused, and their learning is far more effective and efficient when they are focused.
This is what gamification in learning is all about.
Gamification in learning is about engaging learners using gamified methods such as leveling up, points, badges, leaderboards, and more to stir motivation and focus among individual learners and groups.
In the case of eLearning, this is essentially about the experience learners have with the content. Of course, developing quality content is important, but how the content is delivered is just as important.
If there is more fun, there will be more engagement, which leads to better learning. That happens with gamification.
To add gamification to your eLearning platform to make learning fun, here are a few ideas:
Have an eye-catching design
Include surveys and quizzes
Create a compelling storyline
Design challenges
Add in rewards and badges
10. A Blend of Diverse Learning Resources
If you want your eLearning platform to meet the needs of diverse learners, create resources that support the diversity and inclusion initiative. Adding several different types of resources can allow trainees or students to choose how they want to learn.
Here are some tips you can implement to make your eLearning platform diverse:
Accommodate diverse learners and professionals by offering multilingual courses
Create training and learning resources that appeal to a variety of learning styles. You can add three learning elements to your eLearning: visual, auditory, and kinesthetic.
Create diverse characters in games, interactive courses, or quizzes to promote diversity in training
Conclusion:
The growth of eLearning is an excellent opportunity for the eLearning industry to respond to the demand and design customized platforms that deliver learning and engagement.
When designing your next eLearning platform, take a visioned approach to carefully select features and functions you can add to your platform.
The features we have explored above are proven to drive engagement and high returns on investment.
Ensuring your platform has all those features can help you create a futuristic eLearning solution that promotes quality learning, collaboration, convenience, and diversity.
So, go on and explore your options in-depth and craft the next customized, futuristic eLearning platform.
FAQs
What is customized learning?
Customized learning is an educational approach that allows educators and trainers to tailor learning for distinct student needs, strengths, skills, and interests. This approach helps design a learning plan for each student to teach them effectively.
How much does it cost to build an eLearning platform?
Building an eLearning platform can cost from $20,000 to $40,000 or more, depending on various factors. These factors include features and functionality, development team expertise, development timeline, and more.
Which platform is the best for eLearning?
Many online platforms are there to provide learners with the learning experience they need to master a given subject. One of the best among them is Coursera.