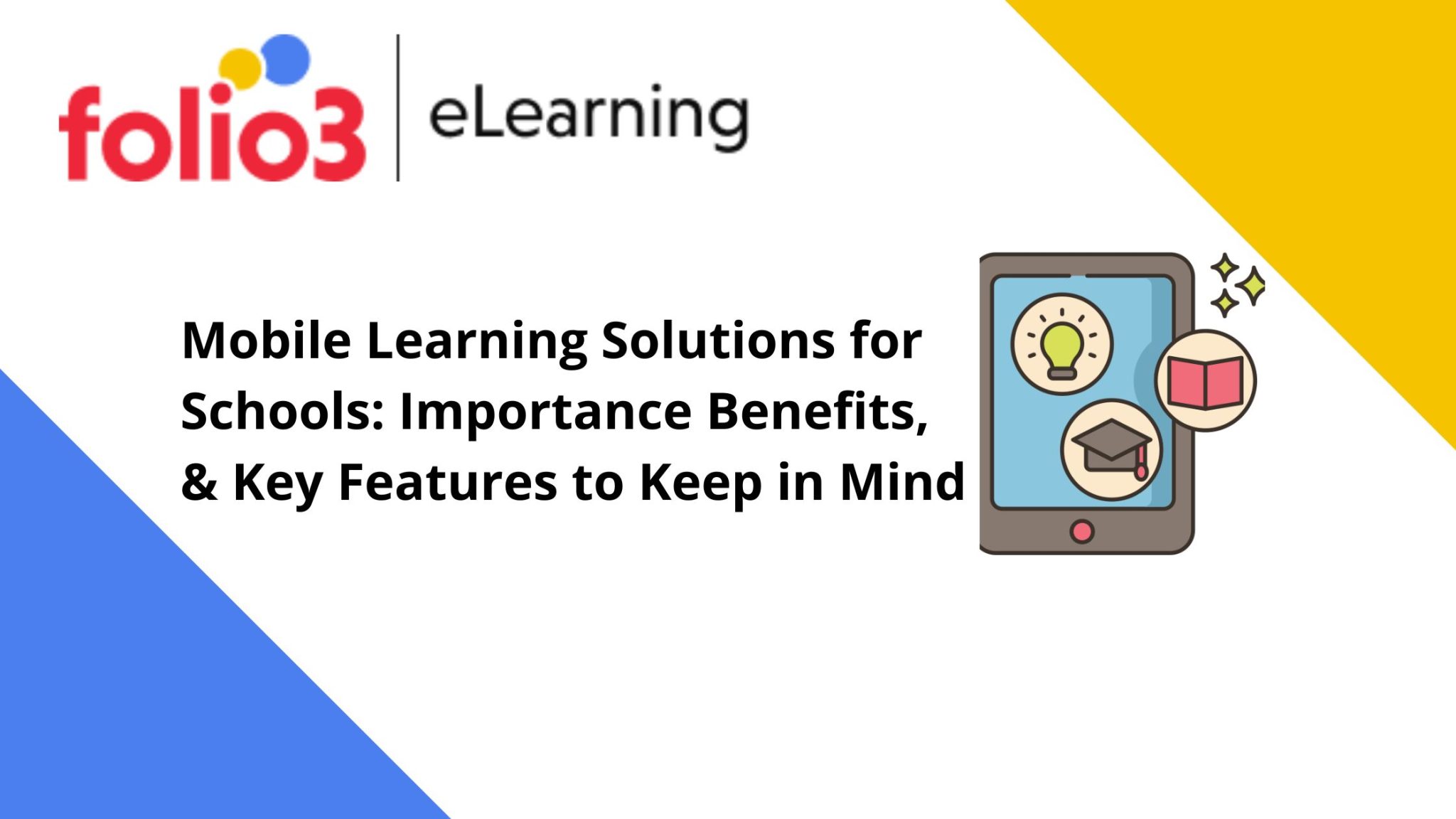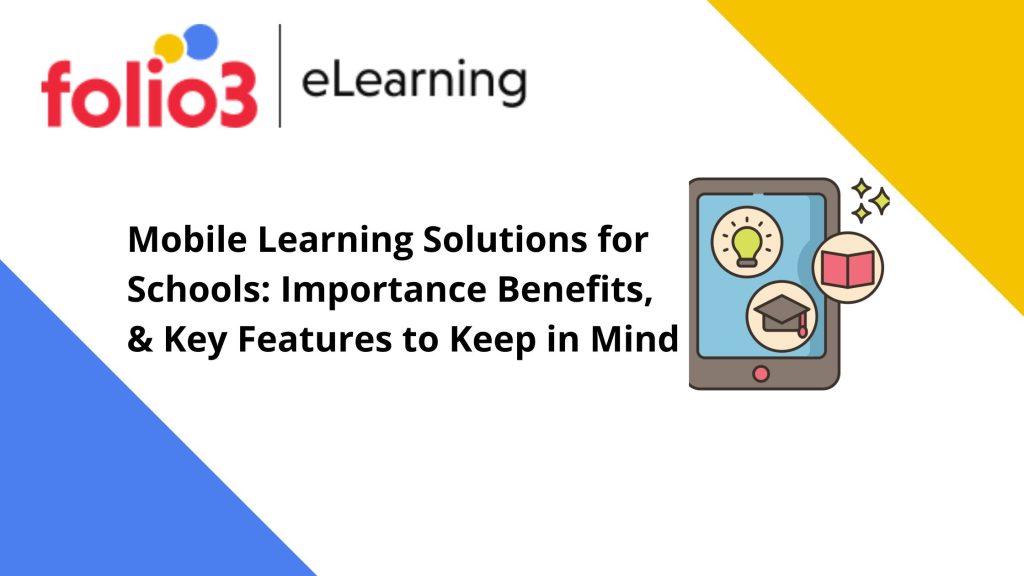 Executive Summary:
Statistics prove that the online mobile learning solutions industry is booming and showing no signs of slowing down. In this article, we will talk about the importance of mobile apps for schools, how they have benefited us and will continue to do so, and the key features you should keep in mind when building them.
If you look at technology, and the eLearning industry in particular, in the past three years, you will realize that there was a huge shift in perspective. If the perspective changed by 50%, technology itself improved by 500%. Perhaps the perspective shift helped. The anti-technology generation started using and enjoying technology, making it a need more than a want. The COVID-19 pandemic hit the education sector in the worst possible way, and schools had to shut down for the longest time, but what helped bring them back to the game? That's right, it was mobile apps for schools.

Interestingly, even though it's only been a couple of years, students today can't function without these mobile learning solutions. The generation that used technology purely for entertainment and social interaction now leverages technology to improve their learning and further their academic pursuit. This is because they know that modern mobile learning solutions and apps have features that are tailored to their needs and offer them convenience by acting as a bridge and connecting the students and teachers.
With the number of mobile apps developed specifically for the education industry today, students have an app for every requirement and any challenges they may face. Mobile apps for schools are truly portable, with 24/7 access available to students who can look up their lectures and past papers whenever they want, from wherever they want, with a simple swipe or tap. In all honesty, technology has revolutionized eLearning and gained more importance than ever before. With the right set of features and customization, students can achieve learning like never before.
Before diving into the features necessary for a successful mobile app for schools, let us see the numbers and discuss its importance and various benefits.
What Do Statistics Say About the Use of Mobile Learning Solutions in the eLearning Industry?
As mentioned before, the eLearning industry and mobile learning solutions and apps have never done better than they are doing today. The global eLearning market is expected to reach $350 billion by 2025.
Let us start with the question: Why eLearning now, after the pandemic is over? Why should we now go for mobile learning solutions when there is no more lockdown? The truth is that 73% of students in the USA want to be able to continue with online classes and virtual education even after the pandemic. Moreover, nearly 70% of employees in the US claim that they prefer eLearning and the chance to learn while at work. How do we know that the eLearning industry is growing and thriving? More than 90% of companies and corporations offer digital learning to their employees.
Types of Mobile Apps for Schools: Is There an App for Everything Already?
We said earlier that students have an app for each and every requirement. But do they? Is there an app available for every challenge? Honestly, at the moment, there is. But as learning needs evolve, technology is evolving at an equally fast pace, if not quicker. Here is a list of the types of apps that are available today.
Learning Management System (LMS)
Attendance app
Exam and test preparation app
Interview prep app
Language learning app
Online tuition and conferencing app
Online lessons and assignments app
Mock tests app
Quiz app
School management app
Parent-teacher app
Mentoring app
The Importance of Mobile Apps for Schools: What Makes Them Special?
So what need are all these apps fulfilling? These applications help students with their specific learning needs. For instance, one student is a hard worker but needs mentoring to be able to choose his path and do better. A mentoring app will help him choose the perfect mentor and keep him in touch with his mentor.
But what should be expected of these mobile learning solutions? You would want secure and smooth operation, an easy, intuitive, and responsive interface, and a reliable source of knowledge. If you find all of this in an eLearning application that is tailored to your learners' needs and challenges, your learners are in for an outstanding experience.
A mobile app for schools should offer convenience to students, parents, and teachers alike. It should serve as a medium for effective and transparent communication between these three groups. The application should offer personalized content to the students and deliver regular reports on their progress. These applications are special because they appeal to this technology-centered generation and have proven to help them do better.
Benefits of Mobile Apps for Schools
Even though mobile learning solutions have endless benefits, we can start with the most important one we have stressed throughout the article: Convenience. It is an important benefit because everyone looks for convenience, whether it is students, teachers, school administration, or even parents. Whatever "need" the app may fulfill, it will always be connected to convenience. Here is a short list of benefits offered by mobile learning solutions for schools:
The possibility for students to learn wherever they are and whenever they want. With these applications, time and place are arbitrary.
The use of emerging technologies and new learning opportunities.
Convenience for students, teachers, and parents.
Makes content creation and delivery much easier for teachers.
Gives students access to a huge range of learning resources at their fingertips.
It makes it easier for students to communicate with their teachers and peers.
It allows parents to stay in touch with the teachers and stay updated on their child's progress.
It improves the students' interest in learning and even enhances knowledge retention.
Key Features to Look for in Mobile Apps for Schools
If you're thinking of building a mobile app for schools, we have created a list of key features essential for a successful mobile learning solution specifically for schools. These should help you prioritize when you are deciding the features you want for your custom mobile app for schools. These are not necessarily all for one application. For instance, if you are building an app that only caters to parent/teacher communication, it does not need a student panel.
Admin Panel
Create event calendars
Create events
Manage student accounts
Manage teacher accounts
Manage attendance records
Deliver progress reports
Teacher Panel
Create coursework content
Create virtual classes
Manage classes
Assign homework
Send necessary feedback to students
Send necessary feedback to parents
Create examinations
Create assessments
Create academic reports
Parent Panel
Viewing attendance records
Get updated on student performance
Receive updates about school events
Receive teachers notes
Access attendance records
Reminders
Alerts for events and examinations
Access academic reports
Communicate with teachers
Tuition fee assistance
Student Panel
Access course material
Attend virtual classes
Communicate with teachers
Access to the resource library
Study tips
Attendance check
Access to examination rules
Access to school event calendar
View homework assignments and submit them
School newsletter
Communicate with peers
Push notifications
Tuition assistance
These features are important for sure, but as mentioned, they are listed here, so it is easier for you to see what exactly you need in your custom application. You can also add features like payment integration, student community chat, and student database to enhance your mobile app.
The Cost of Building a Mobile App for Schools
We have spoken about the importance, benefits, and even the key features of mobile learning solutions, but what do they cost? Can you afford it? Building apps is not cheap, and designing and developing an eLearning application from scratch can be quite expensive. But you have to prioritize and make the right decisions. This starts with asking yourself a few questions to arrive at an estimated cost because costs factor in a lot of consideration:
What kind of app do you want to build?
What is the problem you are trying to solve?
What are the features your app cannot function without?
Do you have an in-house development team or plan to outsource it?
Are you looking for a freelance developer or an eLearning software development company?
How will you earn from the application, if at all?
Who is your app catering to?
What are the user profiles?
What integrations do you need?
After you have an answer to all these questions, you can arrive at an accurate estimate of what your cost is going to be. To give you an idea, a mobile app for schools with basic features and functionalities can range from $25000 to $35000. If you have many features or if your features are more complex or advanced, that drives the cost up, and it may even go over $75000. Basically, it all depends on the design, features, and interface.
To make it easier and more cost-effective, it's a good idea to launch an MVP and keep more complex features for the next phase of development. This way, you can keep track of costs and decide whether you need a certain part or can do without it. Lastly, you must remember that you will also have to account for maintenance costs, so it's best to factor that in when you are making your estimations.
Any Questions?
If you have questions about building custom mobile apps for schools, we have a dedicated team of eLearning experts to answer your queries. Reach out to us for a free consultation, and we can discuss any questions or requirements you may have.

FAQS
What are some examples and ideas for mobile apps for schools?
If you need ideas for mobile learning solutions, there are so many changing needs of students and teachers that the pictures can keep coming in. Here are a few ideas for school apps:

LMS
Video conferencing app for classes
Gamified learning app for kids
Learning app for special needs children
Audio-enabled apps for hearing-impaired children
Attendance app
Language learning app
Examination and Assessments app
Calendar app
Parent-teacher conference app
Mentoring app
School management app