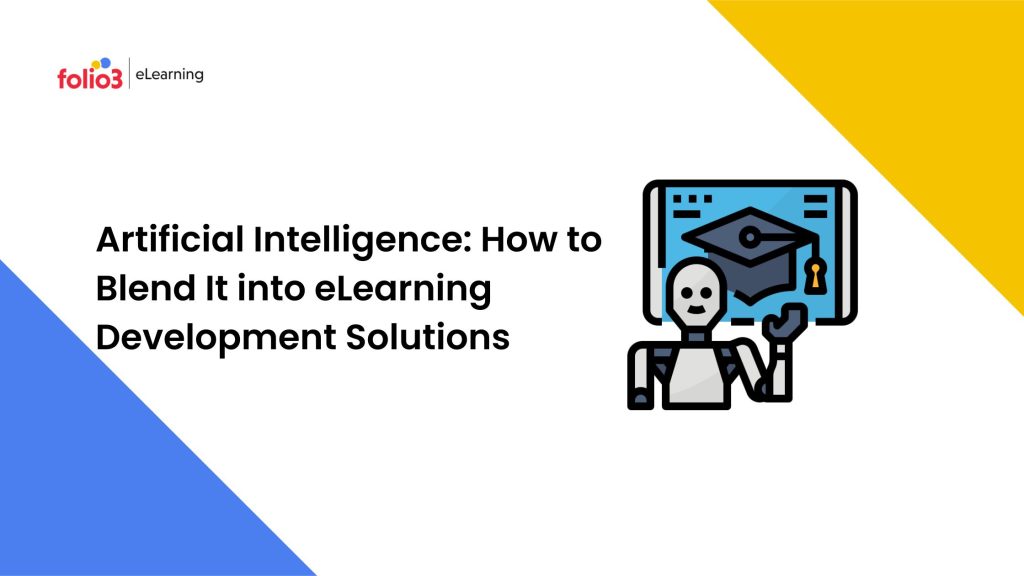 Many industries are leveraging Artificial Intelligence to enhance processes and improve efficiency. eLearning development Solutions are not so far behind. In the last four years, the use of AI in businesses has grown by 270%.
Mobile learning and AI evolution have transformed how we deliver knowledge, whether for educational purposes or workforce training. Working without this advanced technology is unimaginable!
Leveraging AI in eLearning brings down training costs and enhances the productive potential of your workforce, giving your business a competitive advantage. AI boosts ROI and raises profitability.
Let's check out the importance of AI in eLearning and how to blend it with custom eLearning solutions.
How Artificial Intelligence Blends with Custom eLearning Development
Chatbots will dominate more than 70% of eLearning experiences in 2022. The adoption of advanced technology changes the way organizations provide training and the way learners undergo training.
Applying AI in custom eLearning development means higher efficiency, boosted learner motivation, and improved learning effectiveness.
Here is how artificial intelligence can be blended with custom eLearning development solutions.
For eLearning to be effective, it is necessary to make it as personalized as possible.
Personalized recommendations based on employee preferences, learner's styles, and behavior motivate them to continue the course. Ultimately, it leads to a sharpened workforce better equipped to deal with day-to-day challenges.
But how does AI achieve this level of personalization?
The use of adaptive learning allows online trainers to utilize methods that are most suitable for the learner.
To further enhance the learning experience, the user is provided with personalized material such as presentations, videos, written guides, and in-person training courses.
When eLearning development Solutions employ machine learning, they enable organizations to understand their employees better.
Employees have different learning capacities, interests, career goals, and preferences. Machine learning collects this information, monitors learner progress, and recommends specific programs based on their preferences.
This gives companies complete visibility over what the learner aims to do and their ambitions. Through this valuable data, companies can gain insights into the strengths and interests of the learner.
Instructors might not always be available to assist learners. If that's the case, chatbots can step in and offer guidance to employees in need.
Developers are constantly innovating and evolving AI instructors, enhancing how they communicate with humans. Plus, AI instructors can predict learner questions, thus helping learners more efficiently.
Because chatbots can predict common questions, they eliminate the need to answer similar questions repeatedly. Using the data fed to them by humans and their own experiences can offer learners better help.
AI is already being used in evaluating assessments in MCQ or True-false formats. Incorporating AI in eLearning allows instructors to assess learners in other forms, such as single-line answers and short essays.
This allows employees to display how much knowledge they have acquired from the training courses.
Boost Learning Motivation
AI tracks learners' progress throughout the training course. This means AI instructors can analyze employees and create a lesson plan focusing on concepts they need to work on.
Machine learning creates personalized training programs for employees based on their interests, aims, strengths, and weaknesses. This results in a more interesting lesson than a standard training program designed for all employees.
The use of AI, therefore, motivates employees to continue training.
Key Benefits of Using Artificial Intelligence in eLearning 
Constant technological evolution changes business requirements. Hence, corporations require a flexible training program that upskills and reskills their employees accordingly.
Incorporating AI in eLearning offers highly personalized training that targets specifically what your workforce needs. Some of the obvious benefits AI brings to eLearning are:
Quick and Improved Education Process 
Long and extensive training programs can negatively impact worker productivity and motivation, especially if the employee struggles with training. Hence, licensing and professional programs are not as effective as personalized learning.
Personalized eLearning programs provide targeted lessons to upskill employees quickly and quickly bridge skill gaps.
The classes are usually short and focus on specific areas of the program. This doesn't just save time but also increases retention. Plus, employees can focus on training without compromising their work
Raise Learning Motivation 
AI adjusts to the learner's pace and creates a custom path based on the learner's preferences.
For instance, the learner can select preferred content types, including video tutorials, written guides, audio guides, and more, increasing engagement and raising learner motivation.
Learners can undergo training at their own pace and with immediate feedback, allowing them to identify and work on their experiences.
The shorter lessons improve learning efficiency, thus boosting the company's overall performance. Giving learners more control and allowing them to self-direct their training program improves motivation.
AI evaluates each employee. Based on this information, it eliminates irrelevant information that doesn't match their experience or skillset.
Furthermore, personalized training allows the learner to work at their own pace, motivating them even more and boosting productivity.
The shorter training time and enhanced productivity raise the profitability of the business.
Plus, personalized eLearning solutions reduce the costs of conference rooms, specialized trainers, and learning materials, further increasing profit margins for the organization.
The best part is personalized training provides better results and proves to be more effective than generic eLearning. This enhances workforce productivity resulting in better outcomes and giving the company a competitive edge.
Conclusion:
AI in eLearning offers countless benefits to both learners and instructors. AI might not be able to replace human trainers, but it can certainly raise learning efficiency and personalize training programs to increase learner engagement.
Combining AI and eLearning development solutions enables humans to innovate training programs and equip employees with the skills required to cope with evolving business practices.