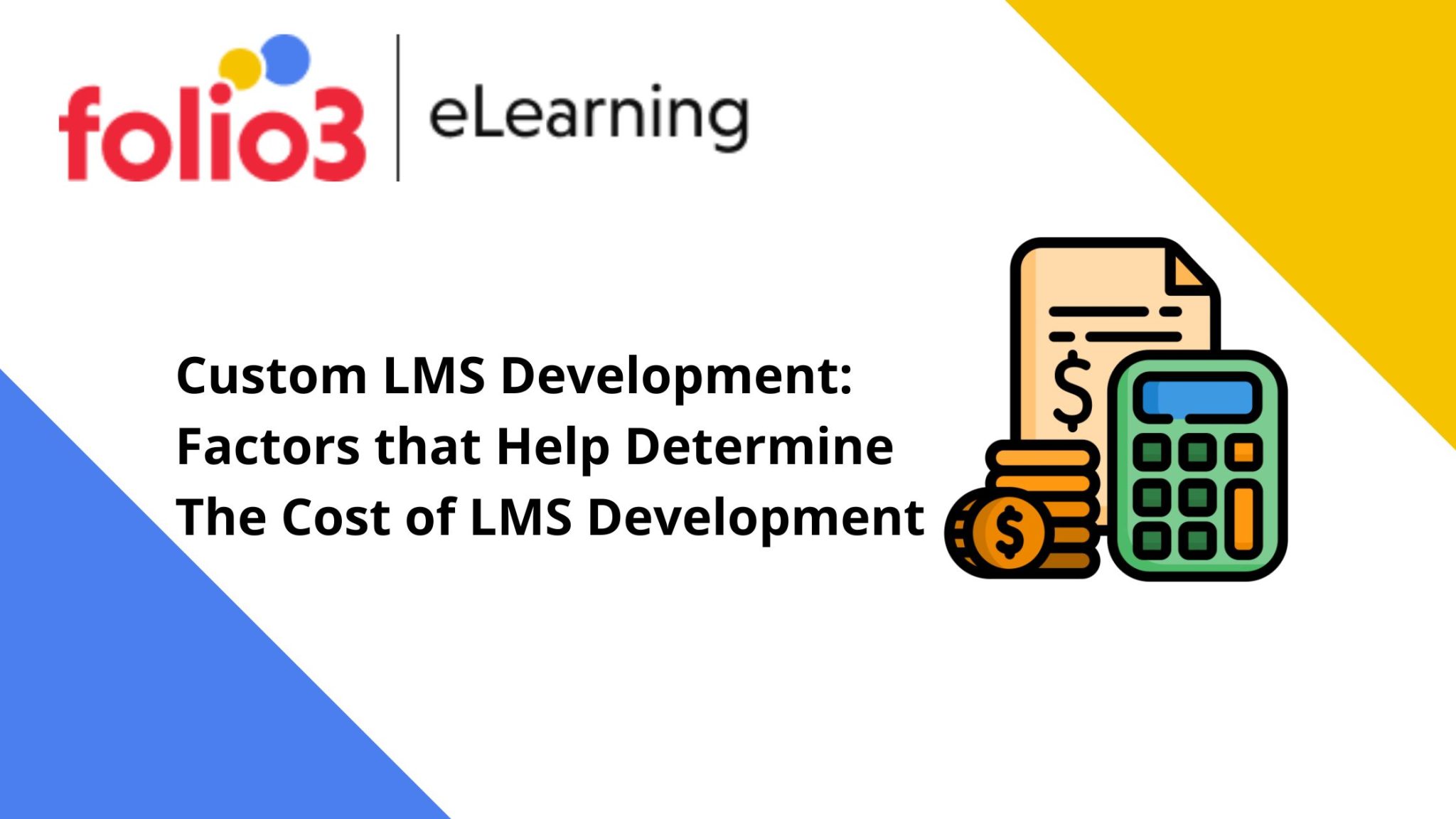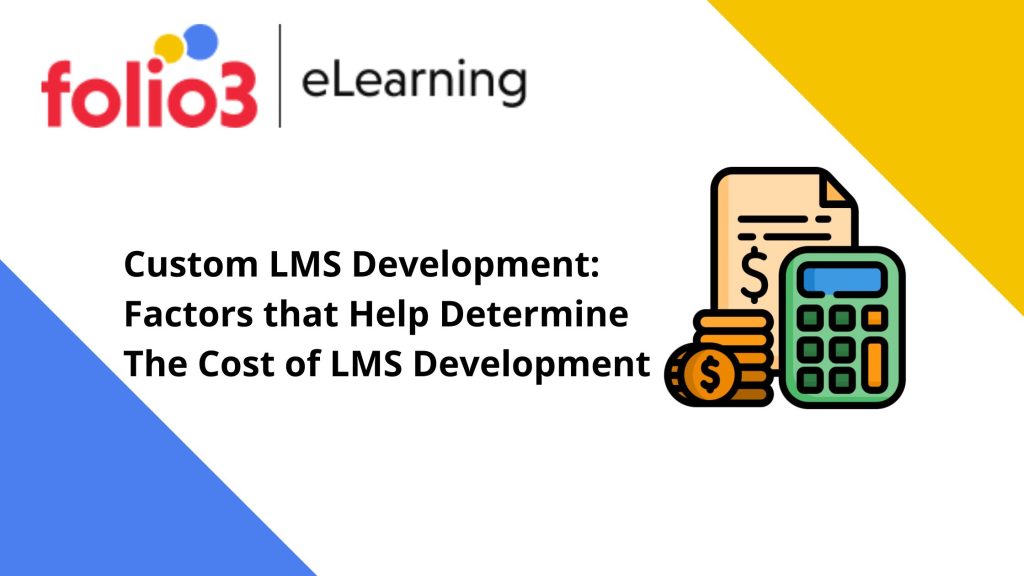 Executive Summary:
What exactly does it take to design and develop your own custom learning management system? This article talks about LMS features, cost, and additional expenses involved and helps explore different factors that help us determine the overall cost of LMS development.
Custom LMS development is gaining more and more popularity and importance as everyone realizes the need for a proper Learning Management System for their institutions and organizations. An LMS today is more of a necessity than a luxury, which is why everyone wants to know what it takes to be able to develop a custom LMS for their organization, what platform to choose, what features to look for, and most importantly, how to determine the true cost of LMS development.
Technically speaking, custom LMS development can mean two things. It can mean building your own platform from scratch with a team of advanced developers and lots of money and time on your hands, or it can mean customizing an established open-source LMS platform to fit your exact requirements without the extra cost or effort. In this article, we will be discussing the latter approach.


Factor #1: The Type of LMS
The first thing that will affect the cost of LMS development is the type of LMS you are looking to build and whether you want it to be hosted and managed. Even though this article is not primarily about an LMS that you want to build entirely from scratch, it is also one of the options, even though it is the most expensive one. But unless you want to develop an LMS platform to compete with other major media and target educational institutions and corporations, you're good to go with the different types. Here are the four main types of LMS with varying degrees of cost and methods of pricing.
On-premise installed LMS
Open-source LMS
Cloud-based SaaS
Custom-built LMS platform
Factor #2: The LMS Development Process
There is a reason this factor is one of the first ones. The process matters when it comes to custom LMS development and affects the cost in a huge way. The cost of LMS development will depend on every little detail as the process unfolds. So whether it is the platform you select or the content you design, everything that is part of the process affects the cost of development.
1. Choose your LMS development platform.
You have several options, and the cost varies according to what you choose. Your custom LMS solution can be built on a customized engine solution, a readymade SaaS offering, or even a WordPress-based platform.
2. Design and develop your course content
After selecting your LMS platform, you can start designing the content for your courses, including the main subject matter and resource links, timetables, etc. This part of the process is important because this is where the actual learning occurs. If the course content is irrelevant to your learners, your LMS can't do much for you. So you have to ensure that you design relevant content and present it so that your target audience understands it, be it in the form of instructor-led sessions, gamified learning, videos, and other multimedia, or even virtual reality sessions. Of course, whatever you choose affects the cost of development. This is also where you may assign the courses to different relevant departments.
3. Design and develop assessment modules and analytical tools
Your learners have the content to learn, but how will you know how they are doing until you test them? This phase is when you design ways to assess your learners' knowledge and incorporate them into your custom LMS. Whether you use exams, surveys, regular quizzes, virtual reality tests, or all of them, it depends on your learners and their learning capacity. Whatever you choose to assess your learners affects your LMS development cost. Moreover, analytical tools also help you gauge the effectiveness of your solution so that you can streamline your course content accordingly if the need arises.
4. Is it user-friendly?
Although technically, this isn't part of the development process, the degree of user-friendliness affects the level of UI/UX expertise you need, which definitely affects the development cost.
5. Test your custom LMS solution to ensure a seamless experience
After your LMS is built, testing is important to be able to ensure a seamless user experience for your learners, and it is a step that should not be missed, but it does add to the cost of LMS development. Testing your LMS allows you to scrutinize your features and tools and fix any bugs that may have come up.
These five essential steps cover a typical custom LMS development process. It is important to note that one cannot design and develop an LMS solution with only a developer or two at hand. You need an entire team of LMS specialists to help ease the process and ensure that your learning requirements are met and that any challenges you may face are taken care of. This team of specialists includes a designer (UI/UX specialist), business analyst, frontend developer, backend developer, markup developer, project manager, quality assurance specialist, and a DevOps engineer. All these LMS experts come with their own set of costs.
Factor #3: The Features in Custom LMS Development
Even when you're going for custom LMS development, the key features and functionality will usually remain the same. These features are usually already part of the platforms you choose, and you have to select the ones that are important for your solution. Any additional features, of course, add to the cost of LMS development.
The key features that are typically present in most LMS platforms are:
Pre-defined user roles with custom access
Adding new users/Editing users/Deleting users
Creating and editing content courses
Notifications and alerts
Testing and assessment
Reporting and analytics
Factor #4: The Platform
Since this article was about choosing a platform and customizing your LMS according to your needs and challenges, the platform is important because it can affect the cost of LMS development. The LMS platform you choose depends on your learning needs and how they match the features of that particular platform. This will ensure that you need the least amount of customization and hence, help minimize your cost.
What Else Can Affect the Cost of LMS Development?
So we have discussed the four main factors contributing to the cost of LMS development, but is there anything left that also affects the price? The answer is yes. There are various additional factors that can affect the final outcome of your custom LMS development as well as cost and, therefore, require your attention. These factors include:
The LMS development company you choose
Technically, the choice you make here can make or break your LMS. Not only will your choice affect the cost of LMS development for you, but it will also affect the quality of development and the level of satisfaction you achieve in the end. Of course, you can even choose a freelance developer to build your LMS for you, which may be cheaper. But as mentioned, you need an entire team to be able to design, develop, and execute a good LMS solution, so even though a freelancer may be cheaper, he may not offer what an established software development company does. Therefore, it is advised to choose your LMS software development company wisely and factor in all the right considerations. You should consider the following factors when selecting your LMS software development company:
How much experience does the software development company have?
How much experience do they have in specifically building LMS solutions?
What does their portfolio look like?
What do client testimonials say?
What is the level of expertise of the developers on board?
Do they understand your requirements?
Does their development methodology align with your requirements?
Do they fall within your budget?
The design you want
If you have any particular customizations with regard to the design, it will affect the overall cost of LMS development, but then again, it will also affect the user experience and your Return on Investment (ROI). Hence, if you have any special effects, animations, or AR/VR specifications, they all come under design and UI/UX.
The integrations you need
The necessary integrations will also add to your cost, especially if you want to connect your system with paid third-party platforms and tools. Extensions offer convenience and add to the usability of your LMS solution, but they also affect the cost of LMS development.
The number of users
The cost of LMS development would not be the same whether you have 50 users or learners or 1000. The number of users reflects your organization's size and significantly impacts the cost of development.
The Cost of LMS Development
We have discussed all the various factors contributing to the cost, but what is the eventual price? The thing is that when so many factors have to be taken into consideration, it is difficult to arrive at an exact cost estimate. Let us tell you why.
Let us assume that you hired a basic team in a software development company consisting of a designer, a business analyst, a couple of developers, a QA technician, and a project manager and that you need an MVP built. Let us also assume that they manage to make your MVP in less than four months. Depending on the software development company you're hiring and the hourly rates for its employees, let us also assume that the wage range is between $25 and $65.
This makes your cost of LMS development come out to be between $70,000 and $130,000.
However, as you noticed, this costing was done on many assumptions. In reality, a change in the team, a customization, a difference in the hourly rate, a difference in the time needed to finish the MVP, or any change in any assumption can bring about a noticeable change in the final cost.
Also, different countries have different average costs for hourly wages. Other software development companies offer various payment plans and may have different pricing strategies. Hence, it also really depends on the different factors mentioned and the choices you end up making. Perhaps you don't have to pay an amount like this at all. Maybe you end up choosing SaaS and Paying per User. It all really depends.
Lms Development Cost Breakdown
| | |
| --- | --- |
| Development Cost | Other Cost |
| Technology Costs | Training Costs |
| Infrastructure Cost | Marketing Costs |
| Labor Costs | Licensing Costs |
| Maintenance Costs | |
Development Costs
The upfront cost or monthly subscription charge for the LMS software itself is included in this expense's main technical components
There are related costs for servers, storage, and bandwidth, whether you host an LMS on-premises or use a cloud-based system.
Employing an LMS team or administrator to oversee system administration, user assistance, and routine maintenance.
Maintaining the LMs requires regular fixes and upgrades to keep the LMS secure and current.
Each time a user or learner enters the LMS, a license fee is required.
Marketing and advertising initiatives to promote LMS usage among staff members or external learners
Employee, instructor, and learner training on how to use the LMS efficiently
| | |
| --- | --- |
| Cost Category | Average Cost Range /year |
| Technology Costs | $2,000 – $10,000 |
| Infrastructure Costs | $1,500 – $5,000 |
| Labor Costs | $20,000 – $300,000 |
| Maintenance Costs | $5,000 – $50,000 |
| Training Costs | $2,000 – $10,000 |
| Marketing Costs | $5,000 – $20,000 |
| Licensing Costs | $2,000 – $10,000 |
Note that these costs are just estimates. They vary widely depending on a project's specific requirements. To calculate the budget for your particular LMS development, contact our team. Our experts will gladly help you estimate your individual project's budget.
How to Choose the LMS Best Pricing Model
The many LMS pricing plans may appear to be a bewildering mix of features, courses, and user numbers. Follow these steps to identify the plan that best suits your needs before making an LMS purchase.
Step # 1 – Determining The Number Of Users You In Training
Determine how many students will utilize the system throughout a payment cycle, such as a month, before choosing an LMS. Will this sum remain the same during the course of the year?
Step 2 – Estimating The Time Of LMS Usage For Each User Onboarding
Will each of your users be unique or will they all be the same? The overall number of active users may be reasonably steady if you simply intend to utilize an LMS for onboarding courses, but the users will differ.
Step 3 – Estimating The Number Of Courses To Upload For Training
The total number of published courses and the amount of storage space required are frequently factors that determine how much an LMS costs. Look for a supplier and a plan with an extensive or limitless data storage allowance if you often perform training throughout the day.
Step 4 – Identifying essential integrations and elements
To create a list of the qualities you require, conduct some preliminary research. Your time spent negotiating with service providers who don't supply the required features will be saved by doing this. This list will also enable you to more accurately determine the actual value offered by each pricing strategy.
Let's see how they function using a real-life example.
Oticon is a provider of hearing healthcare. All of its 250+ employees have to retain a high level of expertise across the nation. Every worker must receive the same message about the Oticon products consistently.
For new account managers joining the organization, there currently is a 10-week onboarding training program as well as extensive product training with more than 300 eCourses.
The most essential elements they require are:
For managers of accounts and field trainers, offline functionality
Reporting function to gauge and keep track of completions
The learning paths function allows for the creation of individualized programs.
Billing for the total number of individuals in the network isn't practical in this situation because they would want to pay just for the services they utilize.
The lack of necessary features in the basic plans and the extra capabilities and integrations that come with all plans like "Business" and "Professional" are the main reasons Oticon decided against using LMSs with a license fee model. Paying a monthly/annual fee and omitting some of their capabilities was pointless.
Oticon turned down an open-source alternative due to its unusability and resource- and time-intensive methods.
A learning management system (LMS) with a pay-per-active-users price approach, limitless data storage, an offline mobile app, and a learning path feature.
How Can Folio3 Help?
As a leading software development company specializing in edtech and eLearning solutions, Folio3 checks all the considerations when it comes to choosing the best eLearning software development company. We have a dedicated team of LMS experts with years of experience and have successfully customized and implemented numerous Learning Management Systems for startups and corporations alike. What makes us different from the rest is that we spend time getting into the details and nuances and making sure we understand every requirement and challenge you may have so that we can propose a suitable solution.
Custom LMS development may be challenging, but every challenge makes us better at what we do. If you would like to talk about your eLearning requirements, or get a quote for your actual cost of LMS development, reach out to us for a free consultation.


FAQs
What is the average cost of LMS implementation?
There are different types of LMS and hence, different types of implementations. The cost depends on several factors and, most importantly, the type of LMS and pricing structure. However, if the implementation cost is the setup cost, then for a cloud-based LMS, the average setup charges are between $4000 and $7500. 

What are the various pricing models for LMS?
The basic and most commonly used pricing models used by LMS development companies are:
1) License and maintenance fee
2) Cloud-based subscription with no limit on users
3) Cloud-based subscription and Pay per User
4) Custom pricing for LMS
How can I upgrade or downgrade my pricing plan? Are there any special conditions?
When you use more users than are incorporated in the plan you are currently on, you must buy an upgrade for per-user plans. What is going to occur to users who sign up after the cap is reached? Will the system allow them to log in, and if not, will it keep their contact information? You'll need to understand how frequently downgrading occurs and whether there are consequences.

Are there any extra expenses I'll encounter after purchasing the LMS?
Check to see if you have any unreported fees. Vendors occasionally tack on extra fees for the LMS's installation, instruction, hosting, upgrades, add-ons, and technical support.

What is your cancellation and refund policy?
To avoid becoming trapped in an LMS that might no longer serve your needs in the future, don't be afraid to inquire whether there are any exit expenses.

What features are included in each pricing plan?
Some LMSs are marketed in packages that comprise various functions, as we just covered; the more expensive the bundle, the more robust the system. You will be able to determine the relative worth of each plan a vendor offers if you have done your research and identified the amenities that are essential for your project.