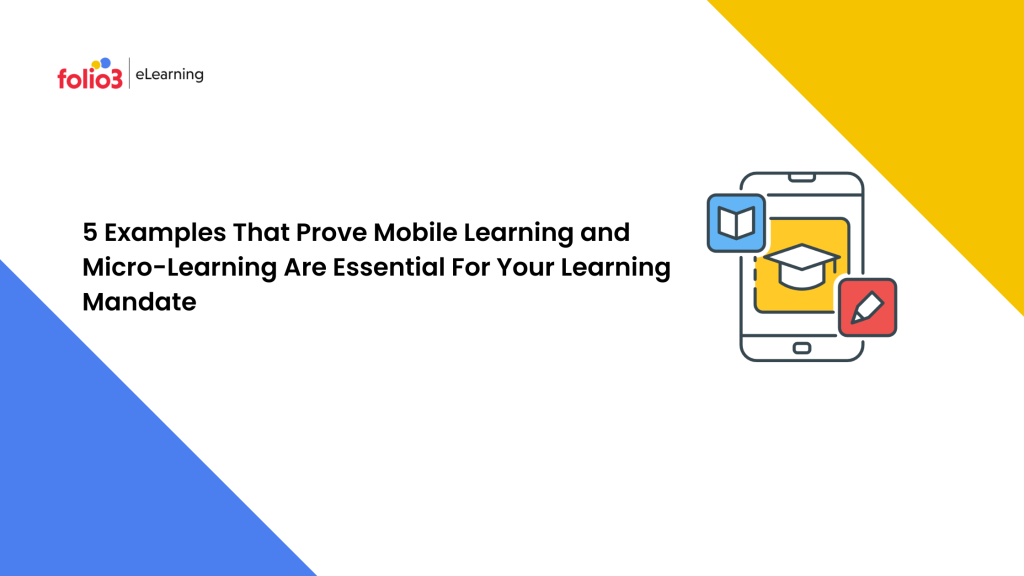 Learning has profoundly changed today.
There were very few things to learn in the past, and they could only be learned in a classroom.
Today, in the age of the internet, there are infinite skills and subjects to learn, and physical presence in the classroom context is no longer the only learning option.
People can now learn at a distance from their classrooms and actively participate in the programs to develop new skills no matter where they are. 
This changeover, from primitive teaching methodologies to advanced and flexible learning methods, was brought about by the arrival of mobile phones.
Learning through mobile phones (let's call it mobile learning) is what most folks prefer today. 
Why?
Attending classrooms to learn a new skill is hard, especially when people are working or running businesses. Picking up the phone and tapping on the screen to know virtually anything is much easier.
This is what many large companies understand. When they design training programs for employees, they prefer to go for mobile learning. 
But is mobile learning effective for your employee training too?
To answer this question, we have gathered some interesting statistics that will help you determine if mobile learning is the path you should choose to train your employees. 
However, before we go ahead with the statistics, let's first touch on what mobile learning is.
What is Mobile Learning?
Mobile learning is a form of both online learning and distance learning. It uses portable technologies, such as smartphones, to impart knowledge.
This learning promotes mobility and flexibility for learners, allowing them to learn anywhere at their own pace. 
This means people have the freedom to learn in front of the TV, in a taxi, on a park bench, up a treehouse, while waiting for a flight, or just before going to bed.
Mobile Learning Paired with Microlearning
Whereas mobile learning makes learning more accessible, microlearning helps break down courses into short, engaging chunks. 
Microlearning is learning through bite-sized material and modules. It uses specific instructions or media such as videos or a mix of materials like text, hands-on exercises, quizzes, audio, and games.
Mobile learning and microlearning are the best options for designing courses and training sessions.
To kickstart with this type of learning and teaching, you only need to find eLearning development services, design a course, shoot content, publish on a microlearning platform, and that's it! 
But, should you go for it?
Let's dig in deeper and go through some stats to find out why you should go for mobile learning.
5 Examples That Prove Mobile Learning is Essential For Learning Mandate
3.5 Billion People Own a Smartphone
You do not need to arrange a tech stack for your employees; most of your workforce has it.
A recent study shows about 3.5 billion people own a smartphone. Comparing it with 7-8 billion people (the world's population) reveals that almost one in every two people worldwide uses a smartphone. 
This means that almost everyone in your company- from administrative assistants to accountants and managers- has a mobile device. 
To get your employees to learn the skills you want, targeting them on their smartphones is a great idea. Mobile phones eclipse desktop and laptop computers as the preferred medium for consuming content.
If you design content in micro-learning formats, you can make learning easily digestible for them. 
Users Spend 171 Minutes on Smartphones Every day
An average person uses their smartphone for about 2 hours and 51 minutes daily. They look at their smartphones nearly 221 times and touch screens over 2,600 times.
Mobile learning can help you deliver the content at their fingertips if you are designing a training course for your teams. Because they are already on their phones, you will not need to put in the effort to motivate them to learn.
In the industrial and manufacturing sectors, many companies actively utilize micro-learning to train their people, which has helped them flourish in their industries.
If you are in an industry like marketing where things happen on a moment's note, through mobile learning, you can update your teams about the shifts as soon as you want.
46% of Mobile Users Use eLearning Before Sleeping
Before your employees go to sleep (at night, of course), render them important pieces of content to consume, such as a compliance training lesson. So, the next day they are at the workplace, they are already familiar with new policies.
You know how hard it is for most people to attend a physical training class. But, if you give your employees the flexibility to learn through their mobile while in bed, you can boost their willingness to learn.
About 50 percent of mobile users are already taking an online class while in bed just before hitting the hay. It is a perfect chance to leverage mobile learning for training your employees.
50% of Mobile Apps are Used for Learning
A factor that prevents you from training your employees on the job is the lack of time.
You will make training programs annoying if you ask them to spend additional hours at the workplace and attend training sessions. 
With mobile learning, you can empower workers to access knowledge at their chosen time. 
According to research, 89 percent of people download applications on their smartphones, and 50 percent of these applications are used for learning. 
By providing well-crafted content packed in an application, you can allow your people to pick up learning when it suits them.    
64% of Learners Consider Training Through Mobile Learning Essential
This stat shows many of your employees are probably in favor of mobile learning.
Providing them with an interesting microlearning course based on short modules within their phones can be a very effective way to encourage their participation.  
A study conducted to analyze the efficacy of a microlearning course designed for journalism education proves that this type of learning has positive results. The survey results indicate learners had an increase in knowledge and gain in confidence to practically apply what they learned through mobile learning.
Here you got the answer to your question!
Conclusion:
The shift towards mobile technology for learning has fundamentally changed the way learners want to learn.
Because their interest in mobile learning is soaring, you have an amazing opportunity to create a highly engaging course that they can directly access on their smartphones. The benefits of adopting this new approach to learning are numerous. 
By combining it with microlearning, you can multiply those benefits. 
Now, if you are ready to switch from typical training to mobile learning and microlearning, start looking for eLearning development services to get your course up and running before long.