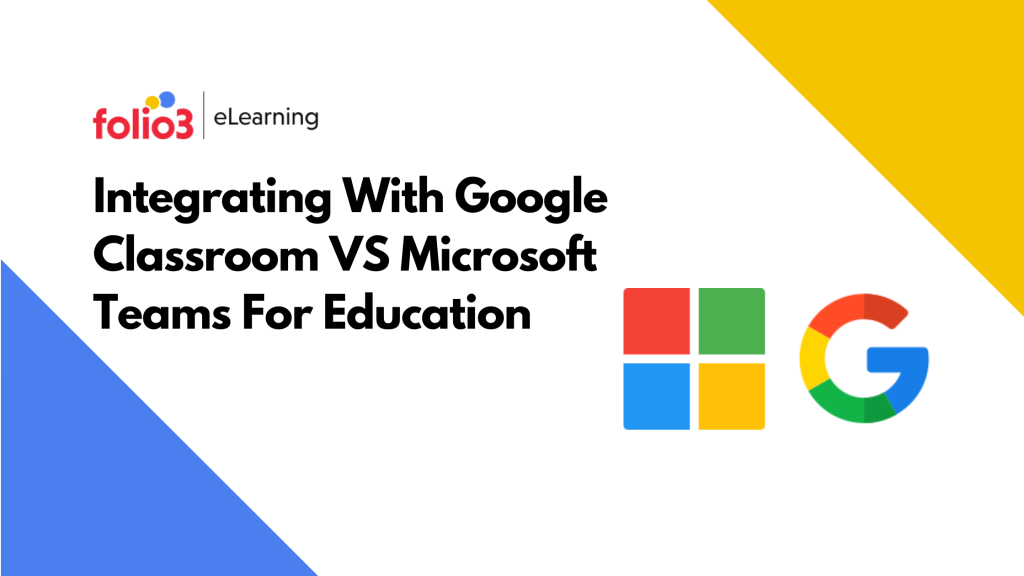 Google and Microsoft are two of the most powerful and influential tech companies in the ed-tech world, and luckily, both of them offer full-fledged educational suites for higher educational institutions as well as K12 learners. The educational platform offered by Microsoft is called Microsoft 365 Education whereas the one offered by Google is called Google Workspace for Education. Both of the educational suites offered by these tech giants also contain their own learning management systems: Microsoft Teams for Education and Google Classroom.
Often searched for as Google Teams instead of Google Classroom and Microsoft Teams Classroom or Microsoft Classroom Teams instead of Microsoft Teams, both the LMS are often mistaken for each other. These LMS are a little different from other platforms like Schoology or Blackboard, so if you were expecting to know about Schoology vs Google Classroom, you're at the wrong place. This blog is a short comparison of Microsoft Teams and Google Classroom to help you decide which one of the classroom suites would be the perfect choice for you. Both the LMS platforms grew in leaps and bounds as millions of users jumped on the bandwagon after the pandemic. Let us discuss the pros and cons of integrating with either of them so that you can make an informed choice.
Microsoft Teams For Education: Microsoft in The Classroom
The Microsoft LMS is better known as LMS 365 or even Microsoft Teams LMS and it is, in essence, a part of the Microsoft Teams education platform with more features to support online learning and more about using Teams in the classroom or a classroom setting. It enables students to take virtual Microsoft Teams classes, have multiple different groups for every class, and submit their assignments and have them graded.
You can integrate with Microsoft Teams by using the Microsoft Graph API (Microsoft Education API to be more specific), which allows applications to act on behalf of authenticated Microsoft Teams users. This way, integrated applications can do things like create assignments or obtain a list of enrollments. You should know that you need consent from your district's IT administrator to be able to integrate with the Microsoft Teams environment in the district. However, it is worth noting that most of Microsoft's education API is still in Beta and may be subject to changes at any time.
Google Classroom
The interface for Google Classroom is pretty straightforward with a separate tab for finding assignments and turning them in, and another one for class announcements and upcoming topics as well as class meetings. You can also see grades as well as the other students in the class.
Like with MS Teams, Classroom integration also happens through an API, which in this case is the Google Classroom API. Acting in the same manner, the API enables applications to act and function on behalf of Google Classroom authenticated users. Google Classroom has recently also introduced add-ons. These work through the Google Classroom API and help in increasing functionality. However, this feature is currently only available for premium Google Workspace users.

Google Classrooms VS Microsoft Teams: The Similarities
Technically speaking, both Microsoft Teams and Google Classrooms have more or less the same features. They have just been implemented differently. Most importantly, the goal is the same for both platforms: to facilitate online learning and make it easier and more effective. Also, both platforms do not support the LTI standard as of yet.
Let's have a look at some of the features:
Microsoft Teams integrates and uses the Office 365 suite and OneDrive for file sharing whereas Classroom uses Google Drive which comprises Google Docs, Google Sheets, and Google Slides.
Both platforms have designated spaces for creating their quizzes, tests, and assignments, and both platforms can upload resources, set due dates for assignments, and even identify the students that still have to complete their assignments.
Microsoft Teams uses the Teams chat and video service whereas Google Classroom uses Google Meet for their text conversations and video calls.
Both the platforms offer room for feedback albeit in their own ways. Teams enable the teacher to assign grades and write comments after reviewing the given assignment whereas Classroom has a feature where the teacher can evaluate and correct the rubric at the very same time.
Google Classrooms VS Microsoft Teams: The Differences
As similar as they may be, they don't come without their fair share of differences. If they didn't, then you wouldn't have had to make a choice would you have?
The main difference lies in the fact that Google Classroom intends to be the central point or the main platform that replaces school when needed. Microsoft Teams, on the other hand, is more like middleware that integrates a suite of different programs and connects apps to bring together many different components, such as Microsoft educational apps, OneDrive, etc.
If we talk about differences in features and functionality, then Google Classroom is generally much easier for teachers as well as students. However, even though teaching with Microsoft Teams has a steeper learning curve, it offers users the chance to customize the way they want to experience learning through the app. Collaboration is also easier for Classroom because they have the option of simultaneous editing for different users. This option is also available for Microsoft teams users but it is based on the condition that they own all the Microsoft products they want to edit on. Having said all this, it is easier to add features to Microsoft Teams for teachers than it is to add features to Google Classroom. This means that teachers can customize and decide how to use Microsoft Teams in the classroom.
One more difference lies in the fact that the Google Classroom API can't retrieve the list of rosters for an entire district, or school like Microsoft Teams can. Moreover, the Classroom API can tell the difference between the teachers and students but in the case where teachers are sometimes also students in other classes, it becomes difficult to differentiate.
Google Classrooms VS Microsoft Teams: Best Platform For You?
So which platform should you integrate with? Both of them are widely popular Learning Management Systems but the one you choose depends on your priorities and what you want from your integration. Both have pros and cons whether they are in terms of features or even little things that make integration more difficult. You simply have to make your choice based on your integration goals.
Do you still need help in deciding between Google Classroom and Microsoft Teams? Do you need any help in integrating your apps with either of the two platforms? Simply reach out to us and we have our team get back to you and help you decide which integration is best for you and even implement it for you.