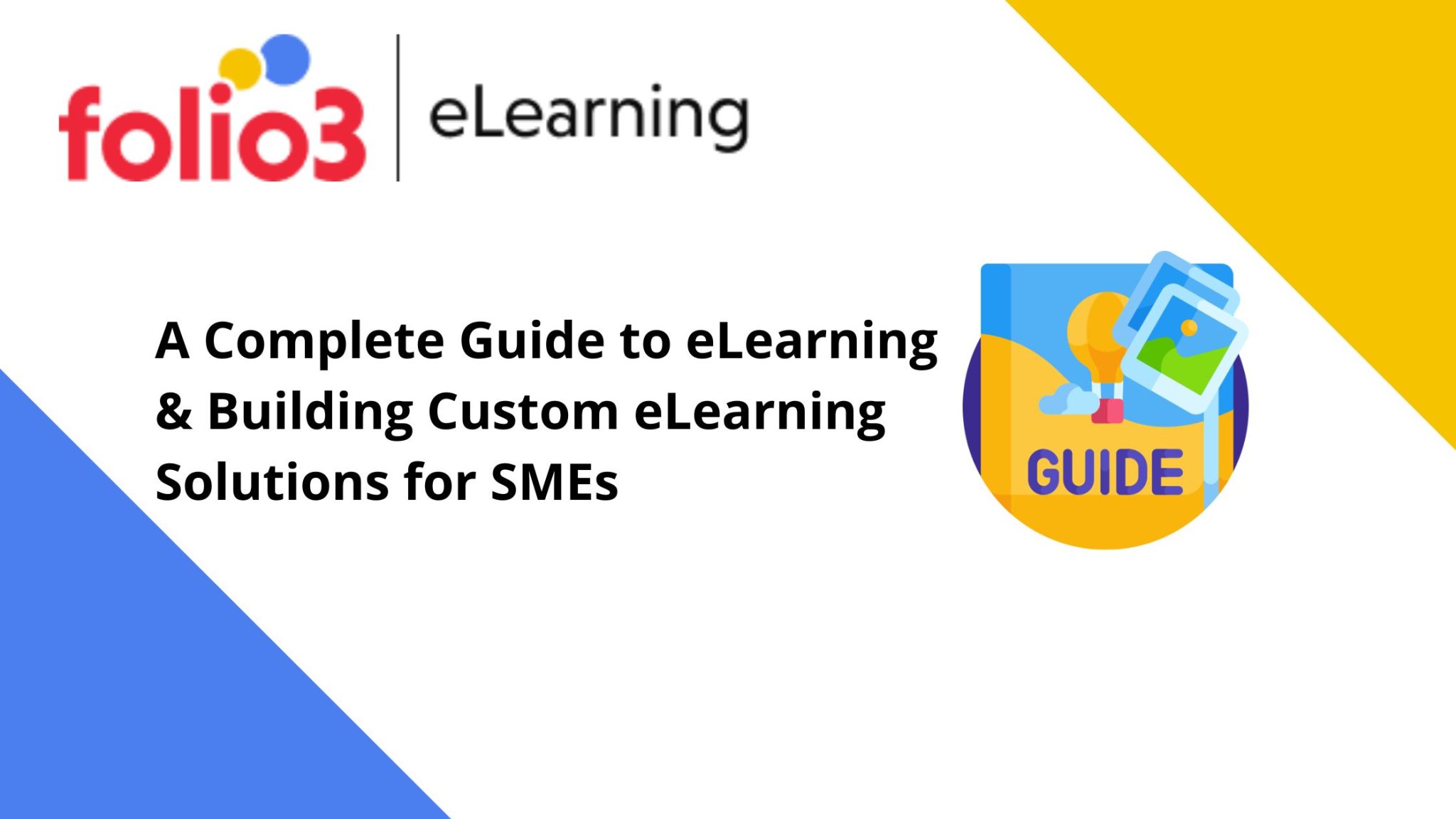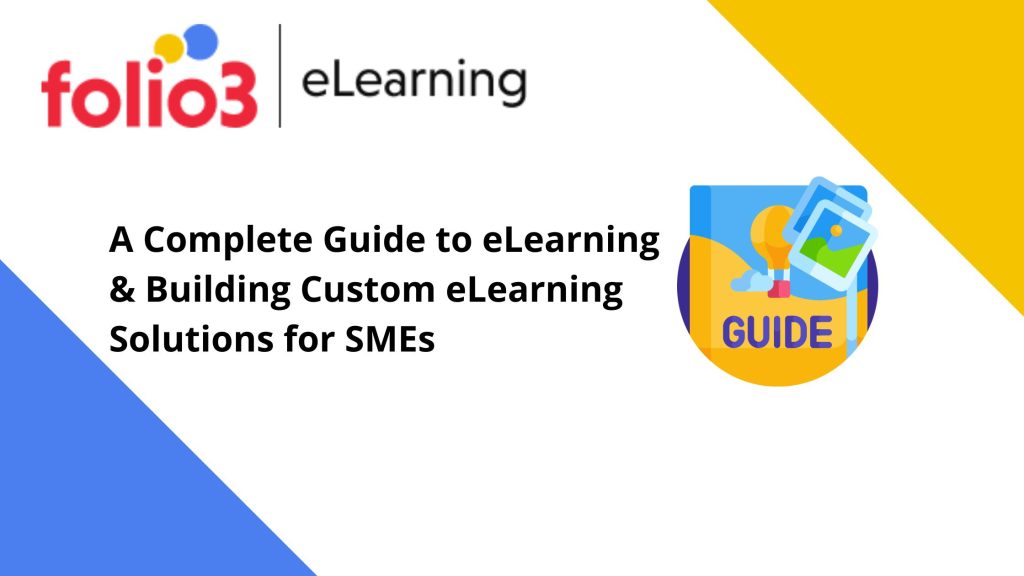 Executive Summary:
This blog will discuss eLearning's various advantages to small and medium-scale businesses. It will serve as a guide to developing a custom eLearning solution or module so that the enterprise can gain maximum benefits. 

Running a small or medium enterprise, or SME as more commonly referred to, is no simple task. There is a lot at stake, and the fear of failure or being crushed by competition is real. The success of an SME is dependent on how efficiently limited resources are utilized to ensure high productivity and sustainability. While taking on the various challenges that come with establishing itself in the market, an SME requires adequate employee training as it grows. And what better way to train your workers than eLearning?
The eLearning market has become highly popular in the last decade due to its immense benefits to businesses. Recent studies suggest that the global market for corporate eLearning is expected to be $44.9 billion, with 12.19% compound annual growth from 2022 to 2027. From time reduction and cost saving, eLearning can bring significant advantages for an SME and is longer an option for big firms only. Building a custom eLearning solution, especially, can help a firm to address its training needs in the best possible way. Let's explore more and discover how eLearning can benefit an SME and how to get started with it.

What is eLearning?

So what exactly is eLearning? Let us begin with the definition. eLearning or electronic learning refers to using digital and online resources or mediums for learning and training. eLearning usually requires the internet and is facilitated by the availability of smart devices like laptops, mobile phones, and tablets. It makes the learning process more convenient for learners as they can access the learning material anywhere at any time.

Benefits of eLearning

Previously, eLearning was considered to be an option for only the big and established businesses due to high investment costs. Although the starting cost might still be higher, many cost-effective eLearning methods have been introduced, and the benefits far outweigh the initial expenses. Let us explore some of the key benefits of eLearning.
Here are the significant advantages of using eLearning for a small or medium-sized firm:
It enables learners to access the training material and courses at a place and time of their choice; thus is a highly flexible method of ensuring learning takes place.

It saves the time and effort of having traditional training. Allows users to upload the training courses on a centralized digital location with just a few clicks.

It reduces the cost of training in the long run. The costs to set up traditional training for employees may be considerably higher than eLearning, which is conducted through digital mediums.

It boosts employees' productivity by providing valuable learning and updating their skills. According to IBM, firms can acquire $30 worth of productivity for every $1 spent on eLearning.

It is an effective way for training, and studies indicate that it contributes to employee morale and engagement by 18%.

It provides measurable ways to evaluate the performance of employees and the effectiveness of eLearning with the help of insights and analytical features.

It can offer features for customization and scalability, which allows the training to be modified to meet the requirements of the business over time.
The Role of Learning Management Systems

One of the most common ways of providing eLearning resources is through specialized software known as Learning Management Systems (LMSs). The software incorporates relevant features and functions to ensure the eLearning process becomes simpler and more effective for the users. Numerous learning management systems are available. The key is to select one with features that match your training requirements best and can help you create a custom eLearning solution that suits your company better.
How to start eLearning at an SME?
Before starting with your SME's eLearning process, consider a few questions or aspects. Here are a few considerations that you might have to keep in mind:
What are the overall objectives for training?
How much is a firm willing to spend on eLearning?
What is the current level of training/skills of the employees?
What kind of training do the employees require?
What aspects should the eLearning course cover?
Which LMS might be suitable for your firm?
The LMS offers what customizable and scalability features? 
How to Create Custom eLearning Solutions
So now, if you have decided to initiate the eLearning process for your firm, here are a few simple guidelines to follow to ensure that you can offer a custom eLearning solution for the best performance. 
Defining Your eLearning Goal & Timeline
Start by assessing your company's eLearning requirements and where your employees currently stand regarding training. Additionally, decide on a time frame for developing your custom eLearning solution and the training process. It will assist you in setting the main objectives of the training as well as deciding on the various components and features that will be essential for the training to be effective. 
Support From The Top Management
It is necessary to have the top management on board and in support of the training before starting the eLearning process. A clear review of the progress achieved through training can be made this way, along with the impact of eLearning on employee morale and productivity.
Build a Development Team
Creating an effective custom eLearning solution will require you to use the expertise of professional developers. They will help assemble a module that meets your training requirements and will deal with any technicalities that might arise. You can either build your in-house development team or acquire the services of external eLearning experts. Moreover, you can also use a combination of both. 
Decide On an LMS Platform
You will have to decide on a Learning Management System platform to build your custom eLearning solution for training. As mentioned previously, several effective and user-friendly software solutions are available that are ideal for an SME, most of which are customizable according to the needs of the business. Alternatively, you can build a custom learning management system from scratch with the help of a qualified team consisting of developers, designers, and content managers. 
Design the Module
This is a critical step in creating a custom eLearning solution where you must curate a comprehensive training module. It would require you to gather all the training materials, including notes, presentations, videos, images, etc., and a learning script into one coherent course. It would also involve the visual look and graphics to make your module more engaging for the learners. The final course is then uploaded to one central place using the LMS so that the users can begin the training process.
Performance Review
Once the training has started, you can assess the performance of the eLearning solution you have created. Are the employees finding it easy to use? Is it fulfilling the training purpose? Are there any improvements that can be made? These are just a few of the aspects that you might need to review to evaluate the effectiveness of eLearning. 
Conclusion
There is no one eLearning practice that is a fit for all firms. The training requirements are bound to vary from business to business based on factors like size, resources, skills, etc. However, with the new technological innovations and software, creating a custom education solution becomes easier daily. For an SME that is increasing in size, training is an essential requirement to update employees' skills, and a custom eLearning solution might turn out to be the most effective solution.