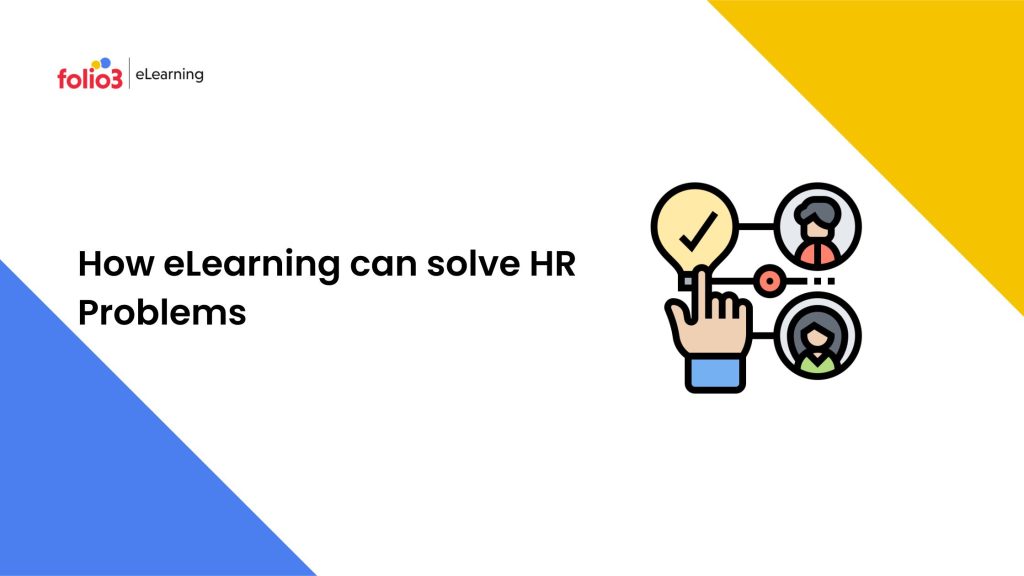 HR training initiatives must be developed to suit the needs of this new, tech-driven age as enterprises have changed because of the digital effect. eLearning may be a powerful tool in assisting businesses in meeting these problems and achieving new levels of efficiency and productivity. Because of these measures, an engaged workforce will emerge.
 Due to the rising global economy, businesses have been pushed to increase their offers. Along with the benefits, firms must also deal with the challenge of managing their most valuable resource—human resources.
HR Obstacles And eLearning's Role In Avoiding Them
Making The Best Onboarding Experience Possible
Employee onboarding is more than just a training session. It establishes the tone and pace for employee participation. Most organizations perceive onboarding as time-consuming and effort-intensive because it is repeated. Furthermore, it is a type of instruction that is frequently neither individualized nor personalized. On the other hand, organizations can create a more meaningful onboarding experience by adopting eLearning. One that is both entertaining and memorable in the minds of students. And, from the perspective of HR, once eLearning is built, it only needs to be deployed as often as needed via an LMS account generated for each new employee. Here, there is no manual repeating of duties and behaviors.
The barrier to Overcoming the Skills Gap
Many firms are experiencing the pressure of a rising talent gap as technology constantly evolves and updates. Regarding comprehensive digitization, HR departments must be laser-focused on employing the appropriate people with the necessary skill sets. It is also the job of HR to teach or upskill existing employees once they have been used. Eventually, every business will become a tech business. HR departments must guarantee that all employees, from entry-level to C-suite, are tech and data literate in this area. Traditional training is time-consuming and effort-intensive. Thus it cannot address these objectives. When you consider the impact of downtime on production, it's easy to see why traditional training programs are so ineffective.
 HR departments to teach their personnel to use customized learning packages. These courses are bundled into microformats for easier retention, allowing access from anywhere, anytime, and bringing enablement closer to the workplace.
The Importance of Improving Training Outcomes
HR departments are also under pressure to guarantee that their training programs have more active involvement. Some employees recognize the importance of training to develop their careers; nonetheless, training programs during working hours might harm productivity. Employees, such as field salespeople who are out in meetings all day and find it difficult to attend traditional classroom training programs, want the flexibility to learn. Learners nearly always prefer eLearning because it allows them to learn at their own pace and in their environment.
 Employees' cognitive burden is reduced with eLearning, which leads to better training outcomes. During a single rigorous daylong training program, receiving, retaining, and then applying all of the information may not be easy. On the other hand, eLearning uses components like video and gamification to reduce cognitive overload, improve information retention, and improve knowledge implementation.
The Modern Employee's Education
HR is making a concerted effort to foster a culture of lifelong learning. In addition, training keeps people engaged, loyal, and motivated to perform better. Furthermore, these factors have a direct impact on the bottom line. Only when an activity is both entertaining and relevant can it be effective. Moreover, HR departments must consider the expanding millennial demographic in every business, as these employees have different expectations than their employers. They desire to be relevant in whatever they do. Additionally, providing them with the appropriate learning resources for effective results helps them learn on the go. To keep this generation engaged and productive, dynamic learning activities are essential.
 Using eLearning, HR departments can also measure employee progress, identify areas for improvement, monitor progress, and provide feedback. All these positively impact training outcomes.
Obstacles to Compliance Manipulation
Every area of modern business has been touched by globalization. To be on the law's right side, companies ensure their workers are well versed in the compliance and regulatory landscape. HR departments are under more strain because of compliance training. Furthermore, it appears to be a big productivity loss when done in the classroom. These training are also considered uninteresting, and low involvement during them is virtually always the case.
 HR departments may use eLearning to quickly roll out compliance training and make it more interesting and engaging. Compliance training can benefit from storytelling, gamification, multimedia, and other techniques to make learning more effective, interesting, and powerful.
HR training initiatives must be developed to suit the needs of this new, tech-driven age as enterprises have changed because of the digital effect. eLearning may be a powerful tool in assisting businesses in meeting these problems and achieving new levels of efficiency and productivity. Because of these measures, an engaged workforce will emerge.
Finally, yet importantly
, 
it is as simple as that.
Personnel management is made easier with online HR. Digital procedures provide applicants, employees, managers, and HR personnel with a better, more intuitive, and more accurate solution for everything from recruiting to accepting applications, onboarding new workers, and supporting teachers until they retire.
On the other hand, keeping track of teacher attendance is just as important as keeping track of student attendance. Using HR software to manage employee attendance is significantly easier. They can register their attendance using IP and geo-restrictions on their mobile devices. You can also track employee attendance by linking your biometric and attendance devices with your HRMS. Employees can also check their attendance hours, vacation time, and leave time.
 Folio3 provides unique e-learning development services and custom solutions that combine innovation and ease. We provide engaging learning experiences that make the learning process enjoyable.
Our dedicated e-learning design and development teams assist you in building and customizing the perfect solution, whether you're an entrepreneur developing a revolutionary digital e-learning app, an educational establishment looking to help your students achieve excellence, or a corporate entity conducting employee training.
 Whether you want to create custom LMS development services from the ground up, design and construct a mobile learning application, or employ augmented reality to create sophisticated training solutions, our professionals can help.
 Following are eLearning services that we offer:
Learning Management System (LMS)
A software that allows you to Customize Moodle or Blackboard or start from scratch and create your own LMS.
Allows you to connect. Utilize our integration services for a seamless connection to increase functionality.
Solutions for Corporate Training and Assessment.
Innovative training solutions can help you empower your staff.
Learning that is gamified.
Custom gamified learning solutions and e-learning services can make learning more enjoyable and effective.
Conversion and modernization of content.
Data from legacy systems can be migrated to current e-learning solutions.
Solutions for mobile learning.
With our unique mobile learning solutions, you can provide convenience to your students.
Solutions for augmented reality and virtual reality.
Make training more engaging using AR/VR solutions, and then watch as your users put what they have learned into practice.
Dashboards and Analytics.
Create intuitive eLearning dashboards with critical insights to aid in decision-making.