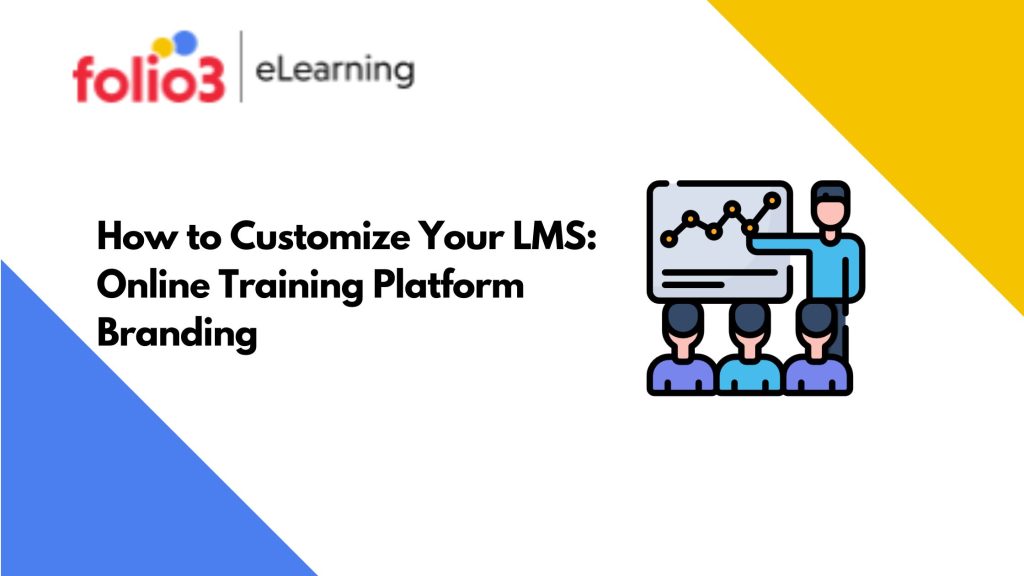 The brand of the business is crucial to its visibility in the marketplace. As a result, your approach should always include empowering your brand. The best brand advocates are those on your staff. Your business will advance if you train your employees, keep them informed, and focus on the same company goals and objectives. The most popular training tool nowadays is an LMS or learning management system. Additionally, a customized one would be an ideal tool.
Why should you consider having LMS customization?
You and your team will feel comfortable using your LMS if you feel it is a part of your company or brand. By modifying the features of your learning management system, you may adjust them to meet the needs of the organization.
Rebranding the LMS is another crucial action that helps your business. You won't have to spend time and money hiring developers to build the eLearning platform from scratch when you rebrand easily and quickly.
One of the main goals is to tailor the learning environment for the team or students. With a custom LMS development, you may create courses with features that are exclusive to each team or individual.

What A LMS Integration Services Will Help With?
You can upload your logo to any reliable learning management system (LMS) and have it appear on the website. There are many advantages to adding your logo and favicon, including:
Customers are reminded of their trainers.

Enables the creation of a personalized, non-stock training environment.

Gives clients a cause to champion.

Provides the training environment with customers' favorable brand associations from your main website.
Show learners your logo daily, whether you're informing long-term workers or brand-new clients and partners.
To gamify a platform is to incorporate gaming aspects into it. Using a points system or badges, for instance, to encourage users to succeed during training Gamification makes learning more enjoyable and transforms it into a game-like experience by introducing external motivators.
Gamification is crucial when designing your LMS since it turns the linear online learning/training process into an interactive experience that helps users maintain attention.
Customized Colors And Themes Palette
It's great that you've started baking a cake by adding your logo to the LMS; now, add the icing: brand colors.
Your LMS should let you alter the platform's color scheme so that all of the main, auxiliary, and text hues appropriately reflect your business. Letting people feel more comfortable while training can be achieved by incorporating your brand's color scheme and logo into your LMS. Make sure to use your brand's colors and theme while creating the artwork for the course catalogs.
Imagine that you have just finished months of planning a new learning program. You've put in a lot of research and overtime, but you now have a potent learning tool that you know will affect change. Think about how miserable it would be if no one went to the party.
If no one knows about it, training is useless. You can create a stir about significant advancements, breaking news, and triumphs using custom site banners. They attract the viewer and grab their attention. On some platforms, they can even be placed in specific website sections, ensuring that you may reach your students wherever they may be!
Customized eLearning Materials For Students
Don't give your clients formal training with many speed bumps to irritate them. Create customized eLearning materials in your LMS to help users succeed in their training.
Consider holding live webinar training sessions when offering public speaking or sales training, for instance, so that students may practice what they've learned. Although live training is pricier than on-demand (even when it's online), isn't it worthwhile if it will give them a training experience that is ten times better?
Let Your LMS Be The Speaker For You
A whole culture has developed in your company while you were preoccupied with overseeing the training division. A key component of your brand is that your company doesn't speak with the same voice as its rivals. Sometimes, the difference is in how you express something rather than what you say.
Your learners anticipate a specific linguistic style from your company in a similar way. Additionally, this tone of speech must be covered in training to help every employee blend in more seamlessly with the company. You should be able to edit all labels and titles in your LMS. This upholds the continuity that is so crucial to your brand.
If you want to learn something, you occasionally have to lock yourself away, sit in silence, and pay close attention. However, there are many benefits to bouncing ideas off of others. You never know where a conversation may go, and another person's distinctive point of view may reveal the solution to a puzzle.
Social learning tools enable the development of these concepts and foster a sense of program ownership among the students. Administrators can also design unique group discussions for any group or subject based on how well-liked these concepts are.
Conclusion 
You could choose a much simpler path. There are many LMSs available that lack a variety of customization choices. There is nothing for you to change. Thus, there is no need for you to consider anything. But consider the missed chances, the discussions that will never take place, and the possibility that your training endeavor may fail to produce substantive outcomes without the LMS customization.
You may develop more adaptable solutions using a flexible platform, and you can reinforce your organization's guiding principles by using a branded platform. You are only limited by your creativity when using custom LMS development!
Folio3 has been providing its best LMS integration services for years; contact us for more information.