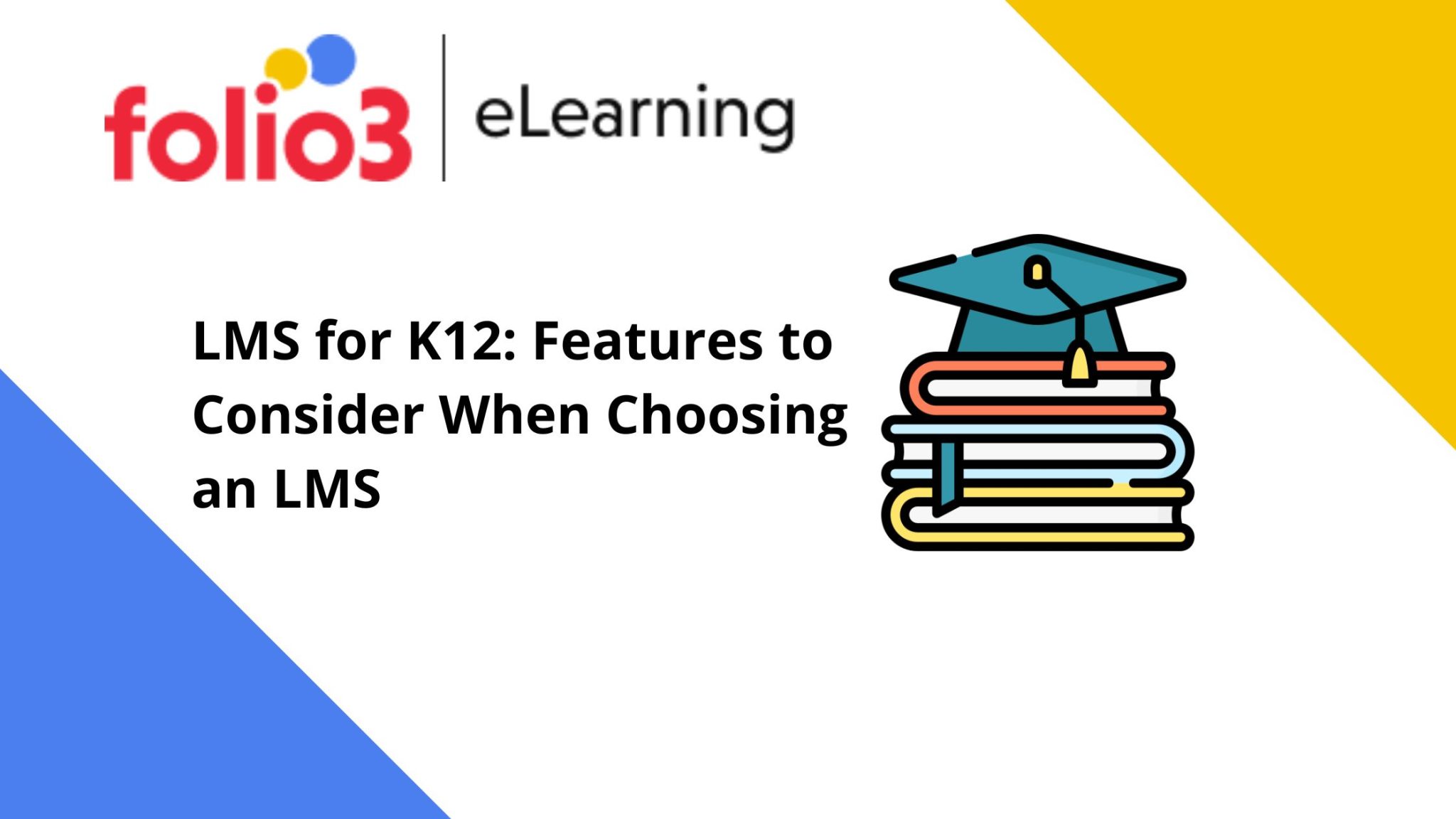 Executive Summary: Many software development companies may claim to offer the perfect LMS for K12, but how do you know how to choose one for your institution? This article talks about everything that you need to consider when you are about to make this important decision for your K12 institute.


What to Consider When Choosing an LMS for K12

Schools and educational institutions nowadays are realizing the importance of technology and integrating it into their classroom system rapidly. An LMS for K12 institutions has become a necessity more than the gimmick it used to be and is quickly gaining popularity amongst teachers and students. Research indicates that more than 50% of K12 teachers claim that their students love using digital tools for educational purposes. This signifies the importance of using the correct Learning management system for every institute.
Schools and institutes have to carefully craft their learning system and be very specific in choosing an LMS for K12 institutions, which covers every unique educational requirement and even the growing needs of the students. They also need to check their requirements thoroughly before choosing an LSM vendor so that they are getting the maximum benefit from the system.
8 Features to Look For When Choosing an LMS for K12
1. Ability to Customize
This is by far the most important feature to look for, which is why it is number one. Looking for the perfect LMS for your school means it has to be customizable. Custom LMS development means going beyond simply choosing an LMS for K12. Selecting the perfect system lets you completely customize your solution and make it your own to align with your educational goals.
Custom LMS development here, however, is not limited to tailoring the solution to your organization's brand and culture. Your educational requirements go far beyond the color of your brand. It consists of the subject matter you are trying to teach. It consists of the students you are trying to teach. Your customization will include everything that transforms your LMS from an LMS for K12 to an LMS made specifically for your particular institute.
2. Personalized Learning
Every student is different. Students are not only different in terms of the knowledge they do, they also do not have the same capacity for learning. In other words, students may all be on different learning curves. A good LMS for K12 institutions lets you personalize it according to your student's individual and unique needs. It also lets your students go through the course at their own pace and take classes in whatever format they find convenient. The students can take classes whenever or wherever they want. This enhances better understanding and caters to every circumstance, encouraging maximum attendance, which could never have been thought of in a traditional setup.
We can not deny the opportunity that an LMS provides for personalized educational needs because a traditional classroom doesn't even come close in this regard. In a traditional classroom, it is doubtful to be able to customize courses to suit every individual, but with the Benefits of LMS for K12, this feature can be the highlight of the platform.
3. Parental Access
An LMS for K12 ensures parents' participation and involvement. It gives parents special access to keep themselves updated with their children's education, progress, and grades with the help of alerts and notifications. Moreover, through the LMS, parents, and teachers can easily communicate their concerns related to the child. A good LMS for K 12 also provides parents access to the student's school calendars on the platform, which helps them maneuver their plans to be able to attend school events and future access assignments and lesson schedules.
4. Scalability
An LMS for K12 should not be selected solely based on current needs. It should also consider any future expectations and changes in trends. What if the school has to go completely online again? Will the LMS be able to adapt with immediate effect? What if there is a sudden surge in student enrollment? Will the LMS be able to keep up? All these considerations must be considered when deciding on an LMS for your institution. A good LMS would be flexible and scalable and save your institution from the hassle of future migrations to other platforms.
5. Integration Friendly
One of the reasons we use an LMS in the first place is convenience, which is exactly what being integration-friendly offers: More convenience! An LMS that can be easily integrated and linked to other software contributes to its speed and performance and also helps make it more user-friendly.
Different integrations can be leveraged in different ways, which can only be achieved if the software is easy to integrate. For instance, integration with a video conferencing platform makes it easier for students to take their classes without moving to other platforms. Additionally, integrating with SSO (single sign-on) maximizes security and blocks any breaches.
6. Reporting & Evaluation
The right reporting tools can help teachers properly evaluate student performance and can help make or break your LMS. With the collective data of student attendance, grades, and the teacher's evaluation of progress, the student can be assessed for his learning outcomes. It also helps teachers address students' issues and differentiates their learning or intellectual gaps.
7. User Friendly
This could easily be the last factor that is considered when selecting an LMS for K12, but the truth is that it should be the first. The platform should be able to accommodate students, parents, and teachers, irrespective of all ages and backgrounds. The user interfaces should be easy and intuitive to be easily operated by younger or non-native students. Moreover, many older teachers and parents are amateurs regarding technology, so the user interface should accommodate and be directive for such novice adults.
8. Accessibility
The right LMS for K 12 institutions would be accessible and always a tap away. Since so much time is spent now on smartphones, it would be almost illogical for an LMS not to be accessible via your mobile phone. The right LMS would be responsive so that students can easily switch devices without taking any chances of their assignments going missing. Moreover, the LMS should have offline access for students with limited access to an internet network. Learning should not stop if the students are having network issues.
Building the Perfect LMS for K 12 with Custom LMS Development
An institution has to consider various factors in choosing LMS according to the element or elements they prefer the most. Some institutes prefer better communication overall, and some prefer a flexible and scalable LMS that expands with the institution. However, it is very much possible to build not only the perfect LMS for K12 but also customize it to the needs of your school. However, one of the most important factors in choosing the right LMS is choosing the right LMS development company.
The software development company you choose should understand your requirements and know exactly how to build the perfect solution that caters to all your needs and solves all your challenges. Folio3 has years of experience building eLearning solutions and has a team of LMS experts ready to answer all your questions. You can contact our experts for a free consultation if you want to know more about any particular feature or discuss your unique LMS requirement.


FAQS
What is an LMS for K12?
An LMS or a Learning Management System is an integrated software system that is used to facilitate learning and create and deliver educational content and courses. It is also used to track and report on the learner's progress and the learning outcome. So it is essentially the medium between teachers and learners and can be used to support face-to-face instruction in addition to virtual lessons. An LMS for K 12 is specially customized for K 12 schools and institutes and caters specifically to such. So, for instance, it would be more user-friendly and gamified than an LMS for corporate employees. 

What are some of the best LMS for K12 institutions?
Blackboard and Moodle are two examples of some of the best LMSs for K 12 institutions.