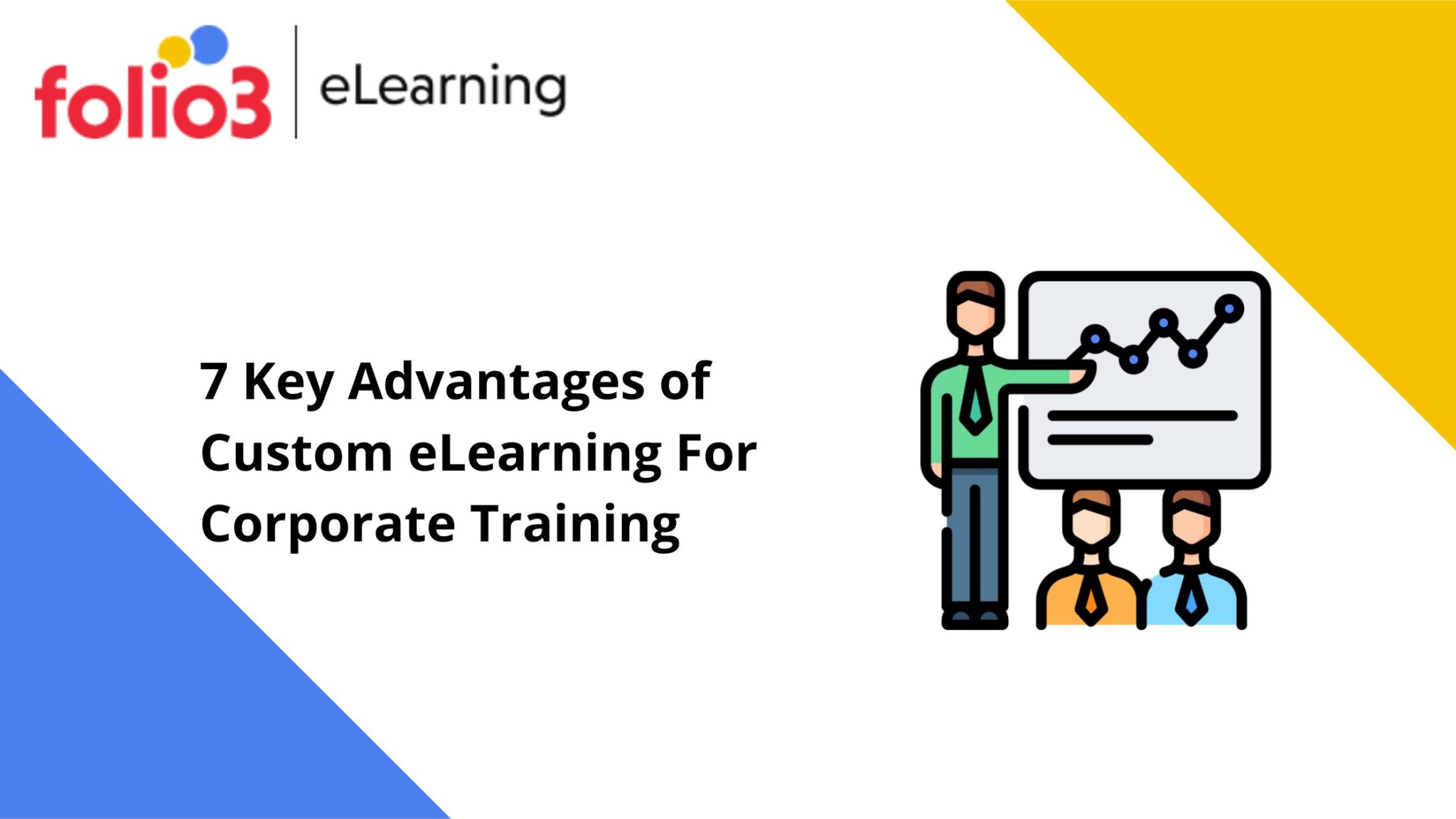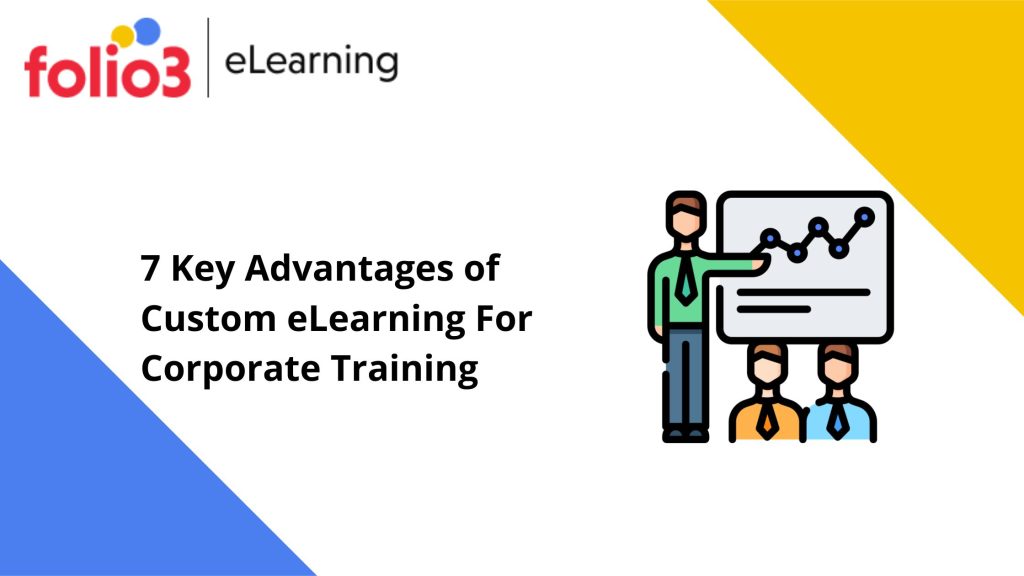 Online learning has demonstrated its importance, not just in the educational sector, but also in the corporate world.
Corporate eLearning solutions facilitate online learning for corporate training, boosting workforce productivity and enhancing motivation.
Employee training has positive effects on the company's performance. It allows companies to train their employees from anywhere and at any time. This can help larger companies with branches across the country or even across the world.
Although pre-built solutions are relatively cheaper, are they as effective as custom eLearning solutions? The simple answer is that they aren't.
eLearning development services can help create a customized online learning program that caters to your specific requirements.
Let's discover the advantages of custom eLearning solutions for corporate training!
eLearning Basics: What is eLearning?
Booking conference rooms, delivering presentations for training, and using chalkboards to educate employees are now a thing of the past. eLearning has transformed the way companies offer training to their workforce.
eLearning refers to delivering education through electronic channels such as CDs, video channels, e-books, and more. Trainers can leverage the latest technology to deliver education to their employees much simpler than traditional training methods.
It allows organizations to deliver specialized training lessons without spending heavy sums on conference rooms, learning materials, and hiring specialists.
Custom vs Off-the-Shelf eLearning: What's Best for Your Corporation?
Off-the-shelf eLearning solutions are cheaper and more widely available. But they can't target the specific training needs of your organization.
Every corporation has unique requirements based on its business processes, training culture, and organizational system. In that case, an easily available eLearning system is a very generic solution.
You require something more sophisticated that targets these unique requirements and offers maximum control over your training program.
Plus, your training requirements will change over time. Hence, an off-the-shelf eLearning solution is not the answer because you can't make changes easily, and the solution tends to be inflexible.
However, if you're looking for something urgent which fits your budget, your only option might be an off-the-shelf solution.
These ready-made solutions cater to the needs of small to medium-sized corporations that require a low-budget and easily manageable training solution.
7 Benefits of Custom eLearning For Corporate Training
Offer Custom Solutions to Your Target Audience
No organization can be the same. Every organization has unique goals, weaknesses, strengths, and systems which vary widely in nature. Hence, an off-the-shelf eLearning solution cannot align with your training goals.
Through eLearning development services, you can create a unique eLearning solution that only your company can benefit from. This targeted solution will address your company's policies, systems, and exclusive aims.
Cost-effective Custom Solution
With off-the-shelf vendors, you will have to pay subscription fees based on their subscription plans or they charge per user. It doesn't matter what subscription plan you're opting for, either way, it adds up to a substantial sum.
Although custom eLearning development services require a heavy upfront investment, in the long run, they're pretty much free to use. Once they have been developed, your organization owns them.
Regardless of how many users you have or the length of time the courses are required, custom solutions are more cost-effective than off-the-shelf ones. Plus, tweaking the courses doesn't cost much either.
Comprehensive Performance Support
Custom eLearning solutions are way more than just training programs for your workforce.
Using company branding and more engaging content, you can motivate your workforce to pursue training and encourage them to apply what they have learned.
Learners can access performance support services such as checklists, video tutorials, guides, applications, and much more. This makes learning more convenient while targeting employees' individual goals.
Enhanced Learning Efficiency
Unlike custom solutions, off-the-shelf eLearning is more generic and does not deliver learning at a personal level. Without specific information that applies to your learners, an off-the-shelf eLearning solution is less likely to be effective.
To put it simply, an off-the-shelf eLearning solution is a waste of time and resources since it doesn't deliver what your learners require.
Opting for a custom solution enhances learning efficiency and increases the likelihood of improving the productivity of your workforce.
Purchasing an off-the-shelf eLearning solution is cheaper than the upfront cost of custom eLearning development services. But a custom solution is unbeatable when it comes to long-term rewards.
Since custom eLearning is more effective, your workforce tends to be more productive, bringing long-term benefits to your organization. By catering to their specific learning needs, you can enhance the overall efficiency of your corporation, in turn, raising productivity.
Targeted assessments help organizations track how much their learners have learned and whether they can apply their knowledge to real-life situations. Plus, organizations can also provide targeted help to employees who require support.
On the employee's side, they can use their performance report to identify where they require improvement. Thus, the specific feedback improves the effectiveness of the learning program.
Over time, business requirements change and so do the skills required to cope with these rapidly changing needs. This means your training courses need to be tweaked based on the latest business requirements.
eLearning services can tailor your custom courses in a way that updates require minimum effort on your part. The best part is minor modifications are a part of purchase contracts.
Conclusion:
Technology is evolving rapidly, reshaping and modifying the way we do business. With every minor change in demand, your employees need to upgrade their skill set accordingly.
This means organizations require custom eLearning development services that grow with your business. Plus, eLearning courses that target your employee's specific learning requirements are more effective in raising overall company productivity.
Custom eLearning fits into this equation perfectly. Personalized learning solutions and cost-effectiveness make it ideal for corporations of all sizes.