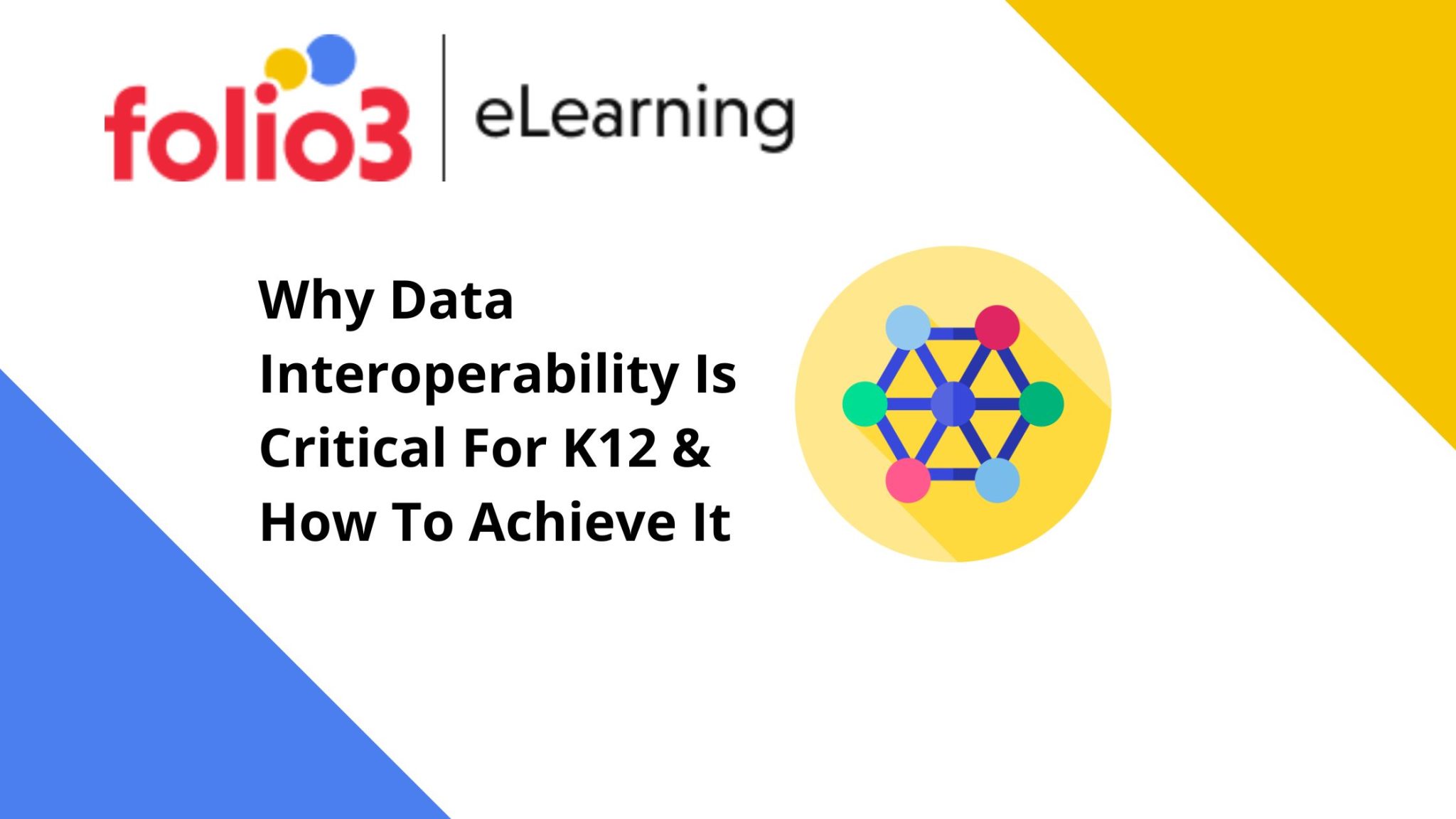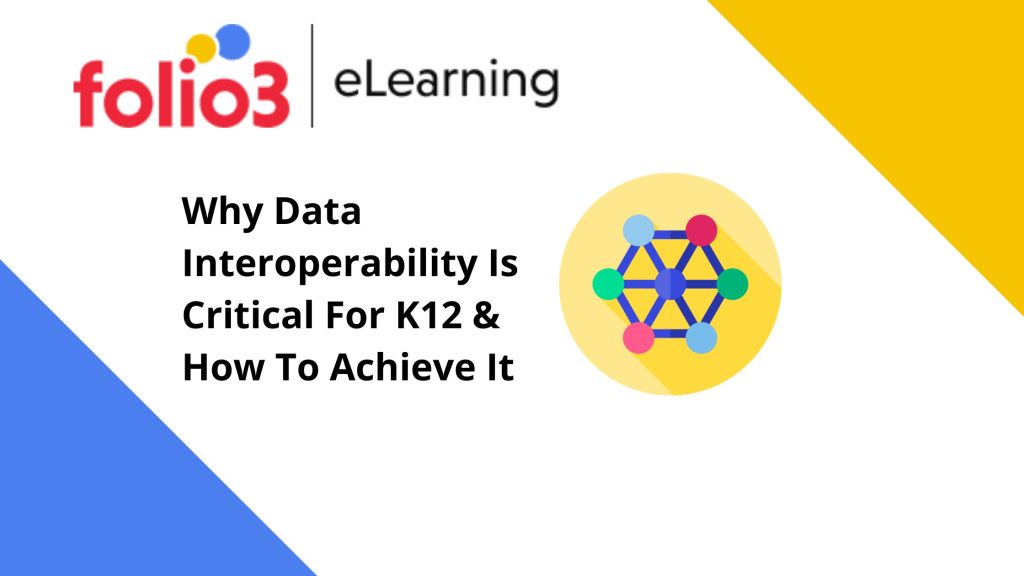 Can you imagine the difference in the standard of education if all the applications and software systems used by schools could interact and communicate with each other? Student data would be so much easier to access when it's shared between systems and staff would only have to enter it once! This could result in huge cost savings as well as operational efficiencies because it would save hours for the administrative staff. Want to know how? In this article, we are going to explain why data interoperability is critical for K12 and how to achieve it. 
Interoperability enables disparate systems and applications to achieve seamless and effortless communication, which makes it easier to retrieve data from different applications and use it to help ensure students' progress and success. Most importantly, it allows administrators and teachers to have clear insight into every individual's needs all the way from when they are enrolled to when they graduate. To be able to achieve maximum interoperability, however, there are hurdles to cross and pointers to keep in mind. We will discuss how to achieve maximum interoperability in this article. But first, let us give an overview of what interoperability is, why it matters, and why we have certain interoperability standards.
What is interoperability in education?
So we know we want to achieve interoperability, but what is it anyway? Interoperability is the controlled and highly secure exchange of information between technologies and applications in a seamless manner. In the education sector, interoperability is a little far behind if compared to other industries. The aftermath of the pandemic, however, has forced schools and K12 establishments to come to speed with technology and adopt interoperability to minimize workload and streamline operations. For teachers, interoperability includes many tools and resources that make it easier for teachers to do their jobs and help students achieve their maximum potential. 
Why data interoperability is critical for K12 and why does it matter?
So why does it matter all that much? Or more importantly, how does it benefit K12 schools and institutions? Since most resources used in schools currently aren't easily interoperable, it's difficult for teachers and administrators to view a student's performance overall from every angle, because it requires the exportation of data from multiple different systems with different log-ins. Even then they have to gather the information they need and then manually manipulate it in order to gain insight and assess the student properly. 
Real-time, seamless access is important for students and teachers in order to leverage the full potential of technology if we want to transform education. Teachers and students need complete access to their data through powerful yet user-friendly data dashboards so that they can see their progress and what's left of it. This would enable adaptive learning and more personalized teaching that could help students and teachers achieve their goals faster. To reiterate the importance of interoperability, let us talk about four main benefits that it brings to the education industry and more specifically to K12 schools and systems:
Improves Flexibility
Interoperability ensures continuous real-time access to data and content even if technology platforms and software systems change over the course of time. Open data standards prevent educational institutes from being bound to a certain platform or technology just so they don't lose existing data.
Maximizes Efficiency
Administrators and teachers spend a lot of time repeatedly filling out data forms and entering the same information into different software systems and applications. This means they enter the same information regarding students into their Learning Management System (LMS), Student Information System (SIS), Enterprise Resource Planning (ERP) system, etc.
Interoperability completely changes the game because powerful integration engines connect these systems and share information among them. This means the data only has to be entered once which significantly reduces the workload on employees and even minimizes errors. Moreover, it even minimizes costs, leads to better departmental collaboration, and helps serve students in the best possible way. 
Drives Continuous Improvement
It's difficult to compare student data across multiple departments or even schools if the management in K12 institutes wants to get a complete view of how they're doing, especially because all this information exists in data silos. Interoperability facilitates these managers and K12 leaders in gaining a deeper understanding of district trends and the overall progress of the school, which helps in better and more informed decision-making and driving continuous improvement.  
Maximizes Chances of Student Success
Since most of the information in K12 institutions today exists in unconnected data silos, getting a holistic view of students and their performance is a lengthy multi-step process. This includes first exporting the information from various systems separately, often even needing to use different log-ins and IDs. Then the data has to be put together and often manipulated to ensure it's in one standard format in order to be analyzed. Only then can the data be imported and analyzed with the help of analytics tools, etc. 
This entire process tends to discourage many from even trying because of how cumbersome it is. This prevents teachers as well as administrators from gaining any insight that helps them support students appropriately by understanding their needs and where they lack. Interoperability eliminates these barriers and enables teachers to gain all the insight they need to make decisions that maximize the chances of students' success.
The need for interoperability standards
Interoperability is not complicated. Perhaps it appears to be complicated at times because of the existence of different interoperability standards. There is a different set of standards for linking student information systems, a different set for enrolling students into different programs, a different set for how data interacts with LMSes, and similarly, a different set of standards for every system. It is not within the scope of this article to discuss every set of standards that exists, but here are some key interoperability standards in the education sector today.
Data Integration Standards
Data integration has to do with gathering analytical data from separate sources and then combining the collected data into a unified view for users. For interoperability to exist, data must be able to integrate automatically and for that to happen, it has to be in a specified standard format. Data integration standards make this possible because they ensure that data exists in a standard format. Some of these standards include:
Schools Interoperability Framework (SIF)
Ed-Fi Alliance
Common Education Data Standards
Digital Content Standards
These standards allow learning solutions and applications to integrate with Learning Management Systems. In order to ensure a seamless connection, all schools need to do is choose an LMS as well as instructional software solutions that comply with the same standard. Here are two digital content standards that help make this possible:
Common Cartridge
Learning Tools Interoperability (LTI)
Rostering Standards
Rosters help in associating teachers and students with specific classes and subjects. They are used to properly manage privileges such as assigning which roles have access to which content and tools. Since schools have separate rosters for every learning solution they have, rostering standards make interoperability possible by standardizing and automating the creation as well as sharing of rosters across different applications. Two examples of solutions that make this possible are:
SIF xPress Roster
OneRoster
How to achieve data interoperability in K12
We said we would discuss and explain why data interoperability is critical for K-12 and how one can achieve maximum interoperability in K-12 educational institutions, and we are on it. However, interoperability cannot be achieved instantly, especially if the goal is to perfect interoperability. It is an ongoing process and requires a coordinated effort from all the schools and institutes in a particular district. Here are four important steps that can be taken by schools in order to achieve maximum interoperability:
1) Build a mutual ground and common vision to facilitate data interoperability
Schools and K12 institutions must follow standard purchasing practices and adhere to common, mainstream standards to ensure that data is shared seamlessly. This requires a harmonious collaboration between IT and other curriculum departments and support from a cabinet-level position. Unless school districts build interoperability committees where they can gather to establish common goals and visions for what they want to accomplish, interoperability can't work. Their vision should also address the need for data to be shared besides deciding how it will be stored and shared. 
2) Establish basic interoperability requirements and apply them to your software purchasing contracts
Why is the transfer of data and content difficult? It is so because every application and system uses a different system for naming their fields, and even different formats for storing data. This is why the higher management at K12 schools should understand different existing interoperability standards to be able to decide which ones will work for their district and then make sure these standards are properly specified in software contracts as well as RFPs. This way, by choosing common standards for all software purchased across departments and schools in the district, this problem can easily be solved. 
3) Establish well-grounded data structures and governance policies
The security and privacy of staff and student data are extremely important. Educational institutions, like all other establishments, are subject to serious penalties if they fall short of complying with privacy laws and regulations that apply to them like FEPRA, COPPA, and even HIPAA in some cases. Hence, the management must keep this in mind and establish clear procedures and policies for safeguarding the privacy of their students' data and ensuring that there is no unauthorized access.
4) Develop a reliable and secure infrastructure for the transfer of data
Seamless exchange of data across different departments and platforms requires reliable network connectivity. It is essential to enable K12 institutions and schools to handle the huge volume of data exchanged and transferred within schools and departments on a daily basis. A secure infrastructure does not only imply the use of HSD or secure fiber-coaxial cable connections across the district but also powerful and reliable WiFi network coverage with updated encryption to be able to safeguard student data. It also helps identify user authentication roles and the extent of access assigned to each role. 
Perfect interoperability cannot be achieved without a reliable learning solutions provider
Just like it is emphasized in the fourth point of how to achieve maximum interoperability, you can't do it without a powerful, high-performance network. Well, a network isn't going to be much help if your learning solution isn't exactly what you need. When you want the best technology vendor, what you really want is a company that develops the perfect solution that solves all your challenges and addresses every minute detail in your requirements. Folio3 gives you exactly that. With years of experience in the EdTech space, we have a dedicated team of developers that understands every challenge you may face and develops a customized solution for you that addresses all your needs. We help you achieve the level of interoperability you didn't deem possible.
Want to achieve perfect interoperability?