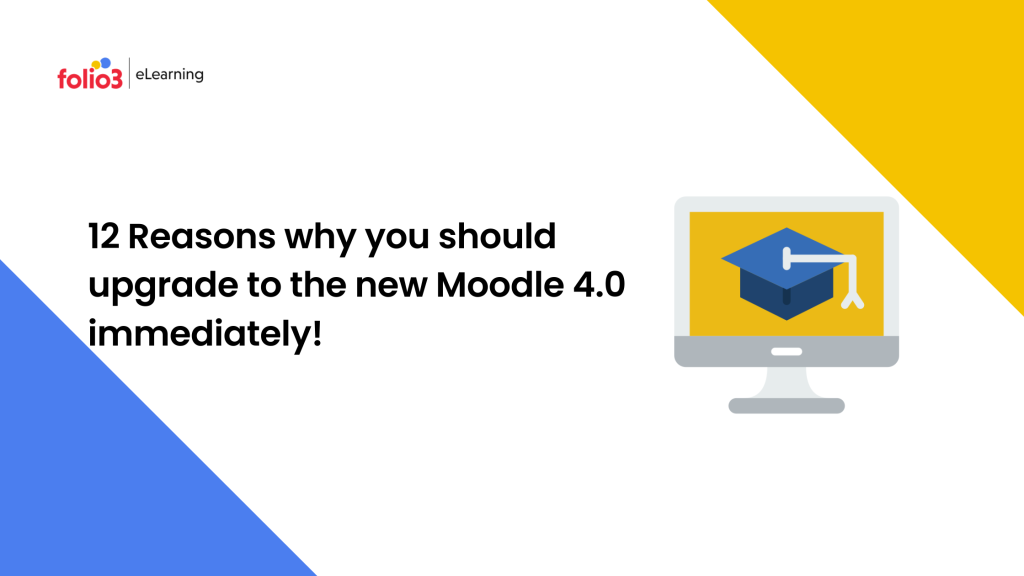 Distance learning gets a facelift! Moodle has recently launched its updated Learning Management System (LMS), Moodle 4.0, and we will tell you exactly why you need it. The new Moodle 4.0 will benefit millions of global users, educators, and learners with improved features and an alluring layout.
Moodle's CEO and Founder, Martin Dougiamas, says, "Our job as makers of Moodle is to ensure the platform is as easy and simple as possible while maintaining our commitment to open source technology and best practices in online learning. No platform compares to Moodle's in-depth features, but we know how people engage with technology has radically changed with the software that pervades our experience. This release addresses these changes and tackles our community's most desired enhancements so that we can empower them to do amazing things more intuitively."
We have compiled a list of ways you can benefit from Moodle 4.0 and what it brings to the table. But first, let us discuss what distance learning is, who it caters to, and how Moodle 4.0 came about.
What is distance learning?
Distance learning is any form of education where the learner doesn't have to be physically present in the same place as the educator. Such forms of education greatly enhance learning capabilities as it is not bound by time, space, and physical boundaries.
Who is distance learning for?
Whether it's a school-going child or one enrolled at a university, a businessman or a domestic engineer, a teacher or a training institute, a corporate company or a university, everyone can leverage the benefits of distance learning. Distance learning platforms like Moodle 4.0 enable individuals to focus on their career, family, and other responsibilities while acquiring knowledge and enhancing their capabilities at the same time.
Distance learning makes cross-cultural and cross-boundary understanding more efficient. Moreover, learner benefits are manifold. Not only do they have greater access to information and knowledge, but such learning is generally less expensive than traditional schooling. Furthermore, it is flexible, and the learner can take lessons in their stride. On the instructors' end, they can reach out to a greater audience than traditionally possible, too, in less time. Additionally, with technological advancements, course content can be customized according to the trainers' targeted e-learners.
How did Moodle 4.0 come about?
Moodle is a global e-learning platform that connects teachers and learners. It has enabled over 300 million users worldwide to improve their skills through distance learning. With more than 41 million courses being offered through this secure and trusted platform, over 1.8 Billion course enrolments are catered to in 42 languages.
Rapid technological advancements require companies like Moodle to regularly update their Learning Management Systems. Keeping their stakeholders as their primary concern, extensive research and development was carried out to launch this new and improved LMS.
The Moodle community was engaged at length to develop ways to ease stakeholder interaction while providing them with the best consumer experience. A user experience study with the Moodle community and twelve workshops was carried out to identify issues and rank them following an established qualifying criteria process. This process rated the problems identified in the earlier stages, time investment, and the outcome. Time and time again, along with Moodle's end users, prototypes were developed, and solutions were sophisticated until the new version was finally set.
Changes also included those made by consulting the Moodle Users Association, among other partners. Problems during usage were identified so that a seamless system could be brought forth. It was ensured that the new Moodle 4.0 was as articulate as its predecessor and extended more value to users at all ends.
Head of Moodle LMS, Sander Bangma, says, "Central to our process was our users and Moodle community, with whom we engaged throughout this release's entire journey. We have made sure that whether you've been using Moodle for ten years or ten minutes, we addressed the most critical friction points but in a way that ensured current users did not need to relearn the process."
What are the 12 reasons?
The navigation hierarchy is now further simplified and shows contextually relevant content. The most frequently used items are easily accessible through tabbed navigation available throughout the website. This seemingly simple enhancement is essential for lessening the cognitive load and enabling instructors and learners to locate what they require with ease whenever they want it.
An Enriched Course Page along with a Renewed Dashboard
The enriched course page shows activity-related information and the required actions per activity. These include descriptions, conditions for completion, completion status, applicable constraints, and dates for each activity (for instance, starting and ending dates for submissions).
The course pages have sections that may be expanded or collapsed as per user ease. This ensures that learners access important information, but they may also collapse the announcement to focus on relevant data.
With Moodle 4.0, end-users come across a current course page and a renewed dashboard. The latter sums up the major tasks within a defined period with clear-cut action buttons. The dashboard also displays a single-view calendar containing a list of course deadlines and other requirements while allowing the calendar to be imported from or exported to other calendars. These improvements enable learners to manage their deadlines timely and more effectively.
Moodle 4.0 is linked with the Moodle App, where learners can easily access information from. Moreover, they do not have to rely on getting access to computers to complete activities or submit assignments solely. With the launch of the Moodle 4.0, all this and much more can easily be done through their mobile devices.
One of the major add-ons in the new version of the LMS platform is a dedicated page labeled "My Courses." This page enables users to swiftly look for, view, and steer through their selected courses.
Besides this, a part of the screen has been allocated, which allows instructors and learners to access course-related updates and reminders via blocks. These course-specific blocks may be arranged according to user preference. The blocks may also be expanded for more information or collapsed to minimize clutter and increase focus.
However, the most important add-on in the Moodle 4.0 is the addition of a Course Index that may be expanded or collapsed. This may be found on the Course Page and makes accessibility much easier for learners and instructors. The latter may use it to reposition course-specific activities, making the organization of courses efficient. The end-users may use this index to locate activities, track activity status and completion, or find resources.
One of the biggest improvements in the Moodle 4.0 LMS is the incorporation of the BigBlueButton as a regular feature. The incredible BigBlueButton features a virtual classroom and provides web-conferencing while sharing real-time information in audio, visuals, and chats. Besides these, it provides options for multi-user whiteboards, screen sharing, polls, breakout rooms, and emojis.
The BigBlueButton goes further by offering user participation analytics and non-downloadable recordings for seven days.
Quizzes in the Moodle 4.0 have been improvised and made flexible. It enables instructors to create different versions of examinations from the question bank and also facilitates them to analyze various questions within quizzes. Timed assignments have also been introduced in this LMS, another plus for trainers.
Accessibility is a key focus throughout the Moodle ecosystem. Their practices align with the Web Content Accessibility Guidelines (WCAG). WCAG conducts accessibility audits before handing out formal accreditations. As done with Moodle's previous LMS, Moodle LMS 4.0 will also have to meet WCAG's standards to achieve the said accreditation.
Moodle LMS 4.0's text editor has been improvised, enabling end-users to create and amend course content with screen readers or keyword navigation increasingly accessible.
Instructors can now send real-time alerts to learners via email or Moodle app for new or updated course information.
Report Builder has been incorporated in Moodle 4.0. This is a feature of Moodle Workplace and enables instructors to generate customized reports to analyze student performance and progress and ascertain the impact of various courses and learning programs.
Account security, privacy, linkage, and ease of operation have moved to the next level with Moodle 4.0. It enables end-users to import external content into the Moodle ecosystem and allows them to export content to external sites.
Moodle 4.0 provides configuration customization to administrators who can share the customized configuration with other Moodle users.
Moodle 4.0 has updated user tours that assist new users in getting acquainted with the contemporary platform and facilitate returning ones with their understanding of the same. It offers hints on new and important features too.
These improvisations have further enriched the experience for instructors and learners alike by reducing the time taken to navigate through the LMS and the ease of operations while at the same time giving it a contemporary look with enhanced features. If you want to know more about Moodle 4.0 and how it can help you, reach out to us!
Need help upgrading to the Moodle 4.0
Contact us on how to upgrade your Moodle site from version 3 to the newest release of Moodle, version 4.0. We'll give you a step-by-step plan that anyone can follow to have an issue in migration or update!